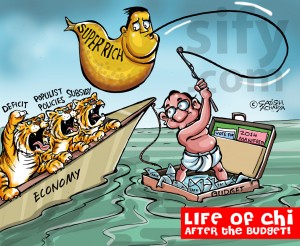 "Would you like to hang out with me this evening?"
Indeed, all of you may have been asked this question by your friends and family. But Google has completely changed the way we "hang out" with our near and dear ones.
With the advent of Google+ (G+) multi-party video chats or Hangouts, not only can we now hang out with our friends and family, but, if we like, with the Prime Minister, Finance Minister, or the President of the country.
Image: SatishAcharya via Google, CC 3.0
Interesting, isn't it?
It seems governments and their agencies and organizations have understood how powerful social media can be (Facebook, Twitter, G+) for engaging with citizens, seeking feedback, creating awareness on different initiatives, and creating a participatory model of governance.
Some of the world figures who have used G+ Hangouts include U.S. President Barack Obama and his wife Michelle Obama, Australian Prime Minister Julia Gillard, and South African President Jacob Zuma.
And Indian politicians aren't being left behind.
Hanging out with India's Finance Minister
Making full use of the power of social media and understanding the importance of getting real time feedback from the citizens of the country, Indian Finance Minister P. Chidambaram decided to "Hangout" with the "netizens."
Every year, when the country's budget is announced, everyone is glued to the television to follow the FM's speech. PR professionals like us are usually busy chasing our clients to get quotes to send to the media, and as a result, follow most of the announcements either through Twitter or via the news online.  It is indeed a crazy day for media and communications professionals.
Yet after all the announcements have been made, we all still have questions, and there is no one around to address them. I'm sure there were people who wished they could speak to the FM themselves and get their answers.
And then it happened.
Following the budget announcement, P. Chidambaram responded to citizens' questions about the budget, and discussed the state of the Indian economy with a panel of thought leaders as well as citizens through G+ Hangout.
Check out the video below to see how the FM addressed the various questions he received via G+ hangout:
Before the Hangout, citizens could submit their questions to Chidambaram either by uploading a video, commenting on the YouTube channel, or through the Google India Page by tagging text or a video with the hashtag #askthefm.
G+ and the Indian Government
According to an article in the Financial Express, there were over 38,200 online views on YouTube for the 62-minute Hangout. The event was covered live by most major English and Hindi news channels, taking the combined reach to over 5 million in real time.
But that's not all.
Last year, Gujarat Chief Minister, Narendra Modi, was the first Indian public figure to use Hangout to reach out to his audience (August 2012). According to his website, Modi's one-hour Hangout attracted over four million viewers, including online and television, as it was beamed on many channels, and over 20,000 questions were asked.
Other interesting facts from Modi's G+ hangout were:
About 1,66,000 clicks were generated on Narendra Modi's website on the day of the Hangout
Over 70,000 tweets poured in from all over while the Hangout was in progress
#ModiHangout remained the top trending topic on Twitter and all cities Delhi, Mumbai, Ahmedabad, Chennai, Bangalore and Hyderabad
It was witnessed by people from 116 countries all across the world!
In my opinion, the government of India has been much faster in adopting Google+ Hangouts than many corporations and MNCs, and are doing a pretty good job of reaching out to their audience and engaging with them. Perhaps this is one area in which India's corporate citizens could take lessons from the government, instead of the other way around.
Considering the power and reach of Google Hangouts, do you think they will become the next best alternative for PR professionals? Would you get your client and the media to hangout on G+ and interact with each other? I'd love to hear your thoughts in the comments below!