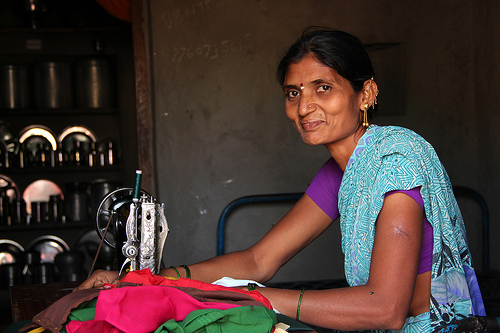 There are a lot of pros and cons about being an independent business owner, but one of the pros is that, if you try to build your business right, you (mostly) get to pick your clients. And that's really lovely.
But even when you have really great clients in general, every so often one comes along that makes you look skywards, pinch yourself, and then do the Hokey Pokey while lip-syncing to "Come on Eileen."
Weren't able to picture it, were you? Ha!
I don't often write about clients, but today I will. And that's because it's such a great blend of profit and purpose, that you should know about it. It's especially fitting today, as International Women's Day is tomorrow (and you remember how much fun I had working with Oxfam America on their IWD initiative a few years ago, in fact, you should check out what they're doing this year too!).
Image: Milaap.org via Flickr, CC 2.0
When $25 changes a life
What would you say if you were told that a modest loan""not a donation, mind you, but a real loan, where you'd get your money back""could completely change someone's life?
And that in 2014 you could invest in micro businesses …
… started by former Indian sex workers, forced into prostitution because of a centuries-old practice …
… and help these hard-working women stand on their feet …
… for just $25?
I know what you'd say. "Where do I sign up?" Right?
My client is Milaap ("mill-aahp"). That means "unity" in Hindi, and it's an organization that marries micro lending and crowd funding for lasting societal change.
I know you've heard of, perhaps even made loans via, micro lending platforms… platforms that let entrepreneurs source several small loans from multiple sources, as opposed to, say, one big loan from their bank. Well, Milaap does that… but takes it a step further.
It encourages people from all around the world to lend individually and collaboratively, via social fundraisers hosted on its platform, to micro businesses started by India's working poor, for causes as diverse as water, energy, sanitation and education.
So literally, when you lend a little, you end up changing a lot.
This year, I'm thrilled that we're working with Milaap on its flagship campaign, The Hope Project, which shines a spotlight on former Devadasis (pronounced "day-vuh-daah-sees" and meaning "servants of God").
These are rural Indian women who, because of a centuries-old tradition (outlawed but still prevalent) were "dedicated" to serve their temple deity for the rest of their lives. Unfortunately, the system was abused, and many were forced into the sex trade.
In fact, it's estimated that even today, approximately 250,000 girls in parts of southwestern India are still dedicated to this ancient practice.
Mahananda, who's pictured above, is one such ex-Devadasi. Her story is heartwrenching… and there are way too many like it.
#HopeProject aims to help these hardworking women rebuild their lives by starting their own businesses. And when you, and I, and hopefully many others, invest in their lives, we're doing just that – giving hope.
If you're the kind of person who cares about making a difference in peoples' lives – and I think you are – check out Mahananda's story (and tell me if you recognize the voiceover!):
We're kicking off the campaign today, and have all sorts of fun stuff planned, like a Milaap Champions of Hope initiative, and much, much more.
I'll be setting up and sharing my own fundraiser, to which I hope you'll make a loan, but in the meantime, I'd love it if you'd keep up on Twitter, Facebook, and the campaign hashtag, #HopeProject.
I know we try to do good every day. At least, most of us do. But to be able to contribute as tangibly as this to someone's life… it literally gives me goosebumps.
So I hope you'll come along for the ride!