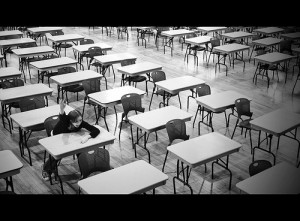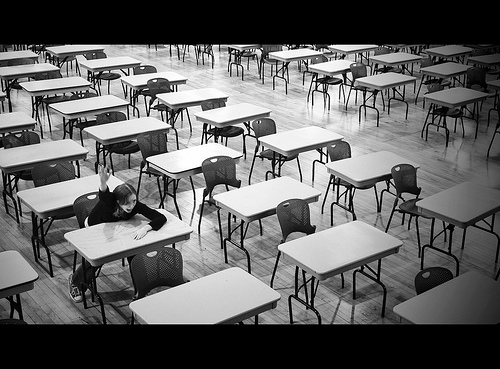 Guest Post by Shanan Sorochynski
This is part of the Blogging for Grasshoppers series

Since our university launched its first official blog, the question I keep hearing is: how did you do it?
The answer: I didn't do it by myself.
Image: Katie Harris via Flickr, Creative Commons
Connect with the people you serve
The goal wasn't to create a blog. The goal was to find a better way to share the University of Regina's story.
In my previous position as the managing editor of the University's internal publication, I spent a lot of time (and still do) interviewing members of the campus community (faculty, staff, students, alumni, community partners, etc.).  So when the idea of a blog first entered my head, I shared it with all of them.
It was a great way to get feedback and find champions for the project.
You can't start a blog like ours unless the community wants it. They are essential content creators, readers and avenues to connect others to the site.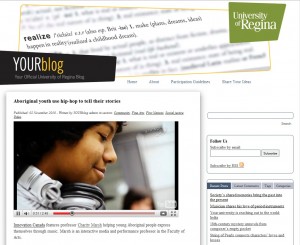 Get your co-workers on board
Social media wasn't on our department's radar. We didn't use it and we didn't talk about it.
So one day I just started peppering my conversations with social media references. I talked about everything from watching Twitter explode with Michael Jackson death rumors to how the Red Cross was using texting for crisis communications.
Within two weeks of doing this I had people from other departments stopping me in the hall to talk about social media.  My co-workers were spreading the word.
Seek like-minded people in your organization and bring them together
It is amazing who you will find when you look.
One of our professors – Alec Couros – had been researching how social media can be used in the context of education for years. We started talking about the potential of social media on our campus and he came up with the idea of organizing an informal learning group.
It was a great idea!
To get the proverbial ball rolling, I wrote about the group in the University's internal publication and he sent an email invite to campus. Shortly after, the first meeting of the University of Regina Social Media Users Group (URSMUG) was held.
People from across faculties and departments attended, all with varying levels of familiarity with social media, all with a genuine interest to learn more.
Those meetings provided an invaluable opportunity to hear their ideas and concerns.
Win the "boss" lottery
I made an appointment with my director at the time, Anna M. Willey, for the quintessential "we can do more" meeting. I gave her a revised copy of my CV outlining my social media skills and discussed how they could be used to meet specific challenges within the department.
I also made known my interest in finding a mentor… someone who could give me advice.
I was lucky. Anna put me in touch with Shonali (and no, Shonali did not twist my arm to write this).
To my surprise this person – who didn't know me or have anything to gain by helping me – wrote me back with a thoughtful, in-depth response to my questions.
That email not only gave me much-needed guidance, it reminded me that there is a community of individuals out there who have been through this before.
Never underestimate the power of an S.O.S. call to social media professionals.
Image: Alan Morton-Smith via Flickr, Creative Commons
When Anna's term was up I met with Paul Corns, the director she was filling in for, and had a similar conversation ("here is what I want to do, why we need to, how we can do it…" ).
Thankfully he was on board with the blog idea. In the months that followed he gave me the opportunity to research, plan, pitch and ultimately implement the site.
How you effectively research, plan, pitch and implement a university blog is more information than I will ever be able to fit in a single blog post.
But I'm not hard to find. So if you have a question, please do contact me at sorochys [at] uregina [dot] ca.
Hopefully, within a year or so, I will have some insight about how to not just maintain a university blog but grow and broaden its reach as well.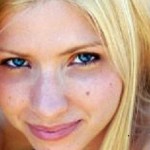 Shanan Sorochynski manages the University of Regina's first official blog: YOURblog. Previous to this she was the managing editor of U of R Report, the University's faculty and staff internal publication, and a print journalist in Manitoba.