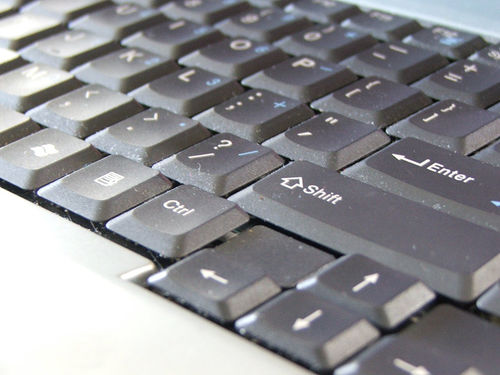 The ability to interact online, as a tangible way of pursuing an education and a career, changed my life.
I know that sounds overly dramatic, but it is the honest truth.
When I started my first job at 17, remote work was unheard of. Of course, at that point in my life (about to finish high school, no kids, no real responsibility other than work), spending eight-to-10 hours at work did not have a huge impact on my life.
I actually enjoyed it and looked forward to the close to two hour bus ride there and back.
However, when I became pregnant with my son at 19, my life drastically changed and so did my overall view on a traditional 9-5 job.
For years, I struggled with work-life balance. 
I managed to juggle a full-time job and family, but I never felt the sense of accomplishment that people always refer to when talking about their career. In 2006, my second son Ayden was born and I really started to reflect on my life, my job, and the future. At the time, I was working at the operation center for a major local bank in the Receipt and Dispatch department, which is a very nice way of saying mail room.
I enjoyed my coworkers, but not my actual job duties. And I realized that with my level of education (HS diploma only at this point), I would never advance in the business world, and most likely have an entry-level position for the rest of my life.
I wanted a degree. I love to learn and I adore school, but what can I say? Life got in the way after graduation, and I found it far easier to work to live rather than to enjoy my work.
I knew it was downright impossible for me to physically go to school with a full time job and two full-time kids. 
Through the "grapevine," I heard that a local college was offering completely online degrees (on-campus visits were only required for the proctored exams.)  I was instantly sold, but also wary that a degree earned completely online might not be as good as one earned by attending on campus lectures.
With no other foreseeable option to obtain my degree (other than cloning myself), I decided to sign up for classes right away.  Two years later, I graduated (in an actual real-life ceremony) and received my Associate Degree in Business Administration.
After earning my degree online, I realized that hard work and technology can replace the on-campus experience.
Soon I began to wonder if I could apply this logic to another major part of my life: work. 
The first time I worked remotely was in 2010. Even though the job was not 100% remote, I found that I enjoyed my life and my career so much more when I was allowed to work from home.  In fact, I even noticed that my dedication to my work was stronger!
After a year of being remote part time, I decided to make it a full-time gig.  I researched websites and although I found a few lemons, I eventually landed on oDesk.  I was already a seasoned Administrative Assistant at this point with over eight years of office experience under my belt. Finding the right contracts was a struggle at first, but eventually I got the hang of "interviewing" online.
Today I couldn't imagine my life any other way. 
I love being a Virtual Assistant.  I am able to work, be there for my kids when they get off of school, and save a ton of gas! I work just as hard as I ever did "in person," and can actually say I enjoy getting up to "go to work" every morning.
Despite the bad press recently attributed to telecommuting, I am a strong believer that, when executed correctly, telecommuting will change the face of business and empower more people to work hard and pursue their careers regardless of what is waiting at home.
I'm living proof of that.
Image: cheetah100 via Flickr, CC 2.0