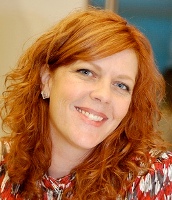 I came across JobShouts the way I seem to come across many new things these days: on Twitter. I'm not looking for a job (hey, my boss is very good to me), but I know many people who are, and for them, it's definitely worth investigating.
According to its website, JobShouts is "no longer just a job board in the traditional sense," but "a job search engine integrated with social media, helping to create connections and deliver better matching results for both employers and job seekers."
Basically, you can search for jobs – and receive real-time postings – across multiple social networks with one click, which is a huge bonus for job seekers. Recently, it introduced a similar feature for those looking for candidates called Talent Search.
I thought this was a very smart use of social media, particularly Twitter, so I sat down virtually with Robin Eads, the co-founder, and asked her to tell me more about it.
Robin Eads & Michael Quale. (AKA @imjustagoyle & @tall_geek). Michael has 20+ years working in technology, with a strong focus on technology integration. I have more than 15 years of experience in IT/telecom staffing, business development, resume writing and career coaching.
What inspired you to do this?
As a user of job boards all through my staffing career, I knew that every year job boards got more expensive; and every year they delivered less quality and more restrictions. I was so fed up with job board results that I quit using them and resorted to using only my strong Boolean skills.
Late in 2008, after my second layoff that year, I decided to start my own recruiting and career consulting company. Demand wasn't nearly as high for recruiting due to economic conditions and I found myself providing a lot of pro bono assistance to job seekers, mainly via Twitter. I felt Twitter was a great tool for interacting and receiving real time information.
That's when the idea was born. Michael and I were discussing the need for a better job board; one that provided fresh information about real jobs, in real time.  We discussed that the "pay to post" job boards would have to evolve with demand, which was rapidly moving away from that model. Michael came up with the name JobShouts when we talked about integrating with Twitter and it stuck.
We decided Twitter would be our first platform, since it was fastest way to receive information about jobs being posted. We liked that we could "tap in" to the API as a means to providing information more quickly. So JobShouts.com was born in January of 2009.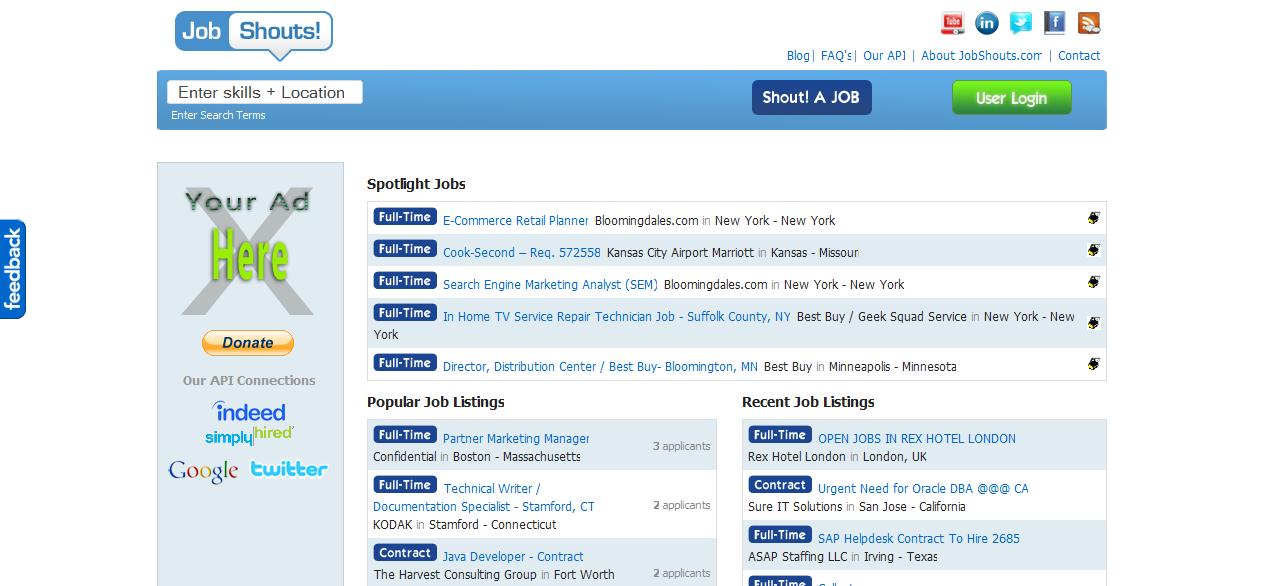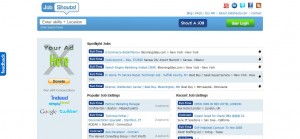 What can job seekers to do to optimize being found via JobShouts?
They can create a free (and private) user profile, that will allow them to receive notification via Direct Message on Twitter whenever a job is posted that matches their profile.
We're working on a solution that will also allow them to choose how they receive that message (email, Facebook message, etc). For now, all job seekers that sign up for a profile must also have a Twitter account. However, they can set their Twitter DM settings to forward to their e-mail or phone so that they don't have to monitor Twitter actively.
What PR and marketing efforts are you putting into JobShouts?
All PR and Marketing is home-grown, trial by fire. During my career I've had plenty of marketing experience including business development. The PR is all new and self taught, with the help of some great friends on Twitter. We've experienced a tremendous amount of support from some key industry people; namely Alison Doyle, Job Searching Guide from JobSearch.About.com. Her help and exposure landed us in the L.A. Times only 2 weeks after our launch!
Eight months later, we've been featured in the Baltimore Sun, New York Times, Tampa Tribune and on FOX-TV across the country. Most of this effort has been largely due to my own learning and relationship building. I write all of our press releases as well as our blog. I create and maintain relationships with people in PR, HR, Recruiting, News Media, etc and I pay attention and learn from them.
Our marketing plan is being refined as we currently take on the task of writing a formal business plan. JobShouts.com needs capital to continue to grow and pursue more innovation, so our business plan is crucial in developing investor interest.
How are you planning to measure success?
I think success has multiple levels. Personally, I consider what we're doing as a success already – we've already done what the big job boards don't do. We've already given recruiters, employers and job seekers a better and more cost effective resource.
As far as monetary success, there will be an enhanced set of features available to paid subscribers in the very near future. Some features will always remain free – but even the subscription costs will be reasonable. We strive never to be a Monster.com, so I suppose the ultimate success for us would be to us to eventually gain market share from them.
***
I imagine aggressive job seekers will be leery of focusing their efforts on just one service, but I do think JobShouts is worth a shot; if nothing else, for the time it can free up for them online, allowing them to focus on networking and relationship-building, which are still incredibly important, perhaps even more so today. (And if they're still part of the "I don't think Twitter's much use" brigade, this might change their collective mind.) Their blog is fun to read as well, and if you're not already doing so, follow them on Twitter here, here and here.
If you've been helped by JobShouts, would you let me know? How are you using social media in your job search? Do share by leaving a comment; successes and failures, we can learn from them all.