Estimated Reading Time: 5 minutes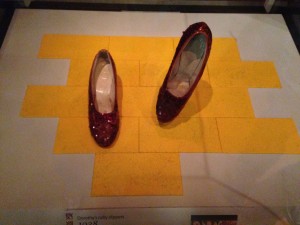 I did an informational interview with someone the other day. I don't have a job to offer, but I do have a large network. So whenever I can, I try to chat with folks who are looking for help (as long as they aren't barfshiners, or bent on picking my brain), to see if I can pay it forward a bit.
This young woman is in need of some resume/interview coaching. The folks she'd found so far were either ineffective, or too expensive, or both. So I told her I'd try to find a few resources for her, so she could put her best foot forward to find the job she'll love.
Those are the original "red ruby slippers" worn by Judy Garland in "The Wizard of Oz." I got a pic!
I then did what I always do when I need to find out something: I turned to social media.