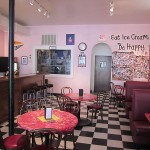 Seems like I had only just written about "little things" that make a big difference for my own blog when I recently experienced an example of a small gesture that, to me, made a big impression.
Margaret (my wife) and I recently had a "date" for lunch at Vlora, a terrific Mediterranean restaurant on Boylston Street in Boston.
True to my abysmally disorganized self, I showed up early.
I lurked in the entrance for a while. Then the hostess, apparently feeling sorry for an obviously clueless patron, suggested that I have a seat in the lounge area where I could relax and keep an eye on the door.
So I did, settled in and started tweeting and Facebooking to pass the time.
Suddenly she reappeared… with a tall, slim glass of ice water with a lemon slice, a smile, and these words: "You must be thirsty."
Wow!
Now I know you're saying to yourself, "What's the big deal, Kirk? It's a glass of water, for Pete's sake."
Yeah, it is.
But it's much, much more than that.
It's a young employee, whose duties entail greeting customers and facilitating their ultimate seating, taking the initiative to reach out to an as-yet-unconfirmed customer and make him feel welcome.
This wasn't our first visit to Vlora… and I can assure you it won't be our last. The service is impeccably smooth; the food is great. And I always walk out the door smiling!
Customer service, as I am constantly pontificating to my undergraduate Communication students at Curry College… especially those in my Public Relations Concentration (as well as my graduate Organizational and Professional Communication students at Regis College), is about making someone feel as though he or she is the single most important person in your life.
Now the purists among us are muttering under their breath that "customer service is so much more than just making someone feel good."
And it is. But, in my humble opinion, this is where it begins.
People who feel good about their experience with your product or service are likely to become repeat customers.
But, just as important, they very likely will tell others about their experience with you and your product or service…"third party endorsement" that can pay significant dividends over time.
Good customer service means that employees at all levels are alert and engaged at all times.
They understand the importance of demonstrating to the customer that he or she truly is important.
They are actively monitoring customer sentiment, on the alert for both positive and negative conversations and feedback… positive so that they know what's working right; negative so they can alert the appropriate parties and respond quickly and positively.
And the best kind of response is one that has you coming away saying to yourself, "Wow, that was amazing!"
To close with a personal but, I believe, pertinent personal story:
Years ago, we moved to Hawaii as a result of a layoff (mine) and a corporate bankruptcy (Margaret's employer). Thanks to some serious networking/job-hunting, I scored, among others, an interview with the Blood Bank of Hawaii.
I wasn't keen on the blood banking idea… a lot of misperceptions left over from the mid-80s, but a new friend convinced me I should go. So I did… reluctantly.
Finally got to the Dillingham Boulevard location (long commute… longer story) and slogged to the front door. Nearly turned around and left, but decided to gut it out.
I entered the building and found myself facing a reception desk staffed by three people.
One staffer ("Roxanne" – 20 years later, I still remember!) looked at me, smiled, and said, "You look tired. Would you like something cool to drink?"
To quote (as I do occasionally) super-chef Emeril Lagasse, "Bam!" I was hooked.
I immediately thought to myself, "If strangers are greeted this way, what must it be like for regular donors?"
And the rest, as they say, is history. I wound up being blessed with hands-down the best public relations job I have had in my 40-plus-year career.
And I learned, quickly, that that level of care shown by Roxanne was extended to every single person who walked into one of our locations.
Roxanne's greeting, like the young lady's at Vlora, is, for me, the definition of "good customer service."
They both wanted my experience… although neither had absolutely any idea who I might be… to be the best possible.
And it was.
"Small service is true service while it lasts:
Of humblest friends, bright creature! scorn not one:
The daisy, by the shadow that it casts,
Protects the lingering dewdrop from the sun."
~ William Wordsworth, "To a Child. Written in Her Album." [1835]
Image: Infrogmation of New Orleans via Flickr, CC2.0