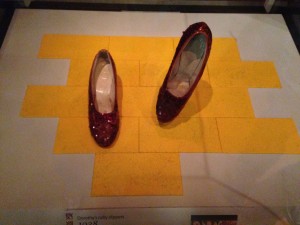 I did an informational interview with someone the other day. I don't have a job to offer, but I do have a large network. So whenever I can, I try to chat with folks who are looking for help (as long as they aren't barfshiners, or bent on picking my brain), to see if I can pay it forward a bit.
This young woman is in need of some resume/interview coaching. The folks she'd found so far were either ineffective, or too expensive, or both. So I told her I'd try to find a few resources for her, so she could put her best foot forward to find the job she'll love.
Those are the original "red ruby slippers" worn by Judy Garland in "The Wizard of Oz." I got a pic!
I then did what I always do when I need to find out something: I turned to social media.
And it was as if I'd clicked my heels three times and said, "There's no place like home."
I'm blown away by the number of people who shared resources, pointed to coaches, or stepped up themselves. All because I asked (and I made it clear I wasn't sure of this person's budget, but that it probably wasn't huge). People are so kind!
So to say thank you, I want to share all the information with you. Who knows, you may benefit from their expertise and kindness as well!
Here goes.
First, the referrals
1. Donna Papacosta recommended Martin Buckland, out of Toronto. I don't know him but if Donna recommended him, he must be great! So if you're in the Toronto area, give him a shout.
2. Julie Walraven also recommended Martin… but reminded me that she is a career and resume coach herself! Check out her firm, Design Resumes; Julie is based on Wausau, WI, but works with clients virtually as well.
3. Heather Whaling – who I adore – recommended Amanda Miller Littlejohn. Amanda (who is also in the DC area) and I have known each other for some years, but I didn't realize she'd moved into personal coaching, so that was good to learn!
4. Helen Mitternight told me that her husband, Ferris Kaplan, has just started this business: Best of You Resumes. What a great name!
5. Carla Schlemminger pointed me to her friend, Kelly Studer, who is a "career stylist." Now there's some branding for you!
Next, from the coaches' mouths
6. My dear friend and mentor Patrice Tanaka reminded me that this is exactly what her Joyful Planet consultancy is about! If you work in PR, and don't know who Patrice is, you should be ashamed of yourself. Google her. And don't be surprised if you get a gazillion results for her super book, "Becoming Ginger Rogers," which I think should be recommended reading for anyone in business.
7. Gerry Corbett (yes, the Gerry Corbett, former PRSA Chair) also reminded me of the great advice he gives at PR Job Coach… for free! And you can pay him too, if you want even more time and smarts from him.
8. My friend Jess Roberts also stepped up to help out, if needed. Don't forget I used to do a radio show with Jess (I think we'll be starting up again soon…). In addition to being an executive recruiter, he also runs Kadance Creative.
Finally, three bonus tips
9. From Irene Koehler: "For most people, they should also make sure they polish and optimize their LinkedIn profiles as well. [It's] best to leverage outgoing efforts *and* attract incoming contacts."
10. Bob Reed said: "Shonali, depending upon where your friend lives, there might be an LDS Employment Center near her. These folks do exactly what you specified for free."
11. And finally, another friend (she doesn't link to professional profiles, so I assume she wants her privacy maintained), said, "Many colleges offer such services to alumni, so she should check to see if that free option is available." Always, always a great reminder.
So if you're still in the camp that thinks social media sucks, think again. You just got a boatload of free – and high quality – resources because of it. And thank you, thank you so much to everyone who was so generous with their advice!
Happy Friday!