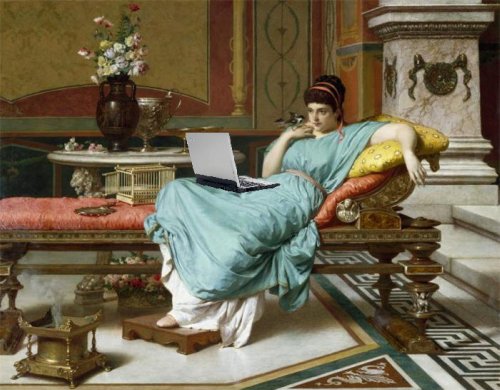 Blogging is a great way to start conversations, share ideas, and build your online community. Whether through guest posts or original content on your own site, blogging can help your brand gain traction (I mean, just look at me!).
So this week, the roundup features seven posts from around the web that focus on blogging. Enjoy!
Image: Mike Licht via Flickr, CC 2.0
1. Blogging for Profit? 5 Sure-Fire Ways Tools Will Help
Why: Are you using the right tools to turn all your writing into profit? Ian Cleary provides five ways tools can help you build a profitable blog. This is a great read even though the webinar is over (sniff).
Why: The medium through which we communicate is constantly evolving. Geoff Livingston takes a look at why blogging may no longer be the best option for every day media discussions.
3. How to Be Visual (Even When You're not an Artist)
Why: Even your mostly written communications like blog posts need a visual boost. In this guest post for Jay Baer's Convince and Convert, Melanie Davis explores a few easy ways for you to get visual.
4. Blogger Research: Is it a Job or a Lifestyle?
Why: Bloggers tend to work at different times and from many places. In this guest post for Jeff Bullas' blog, Andy Crestodina examines some statistics on bloggers and offers three tips to get more from your blogging lifestyle. Update: here are the full survey findings, thanks to Andy for pointing us here.
Why: In this classic from the WUL vault, Marcia Zellers relays some valid questions anyone trying to build a blog for their brand should ask.
6. Adding SEO to the Mix: How PR Pros Can Use SEO to Boost Their Client's Content
Why: The right mix of SEO in your or your client's blog and other online content can create the perfect strategy for boosting online visability. In this guest post for Heather Whaling's Prtini, Alicia Lawrence shares five tips for PR pros.
7. Does Blogging Still Matter in 2014?
Why: In this guest post for Mark Schaefer's Business Grow, Mars Dorian opines on the effectiveness of blogging in today's business environment.
How has blogging helped build your brand's online community… or has it, in fact, not made a difference? What strategies have worked best for you? Please share in the comments below… seeing as how you're reading this on my blog, you already know what I think!