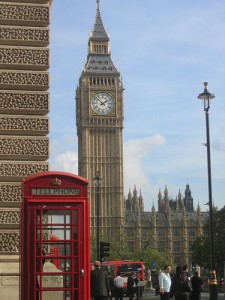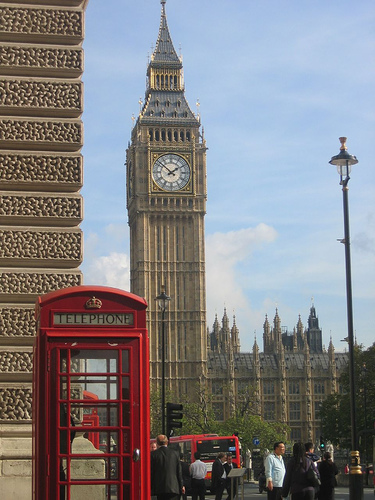 I love London, no two ways about it. And next week's first Twitgigs Experiment is another reason I wish I lived a little closer (just a wee bit).
What's Twitgigs, you ask? A Twitter-gig, of course. But for a more-than-140 character description, my friend Rax Lakhani (who's organizing it) says it's a Twitter-enabled experiment at organizing a great evening of live music, and using the platform to enhance the audience experience.
Three bands – Essay Like Nephew (@EssayLikeNephew), The Seal Club Clubbing Club (@thesccc), Mike Dingham (@mikedignammusic) – will be performing at The Vibe Bar in Shoreditch on Thursday, August 6. It'll also be livestreamed on the Twitgigs Ustream Channel, there'll be live Twitterfall projections around the venue with various Tweet-stations for those who need 'em, lots of Twitpic challenges (with cool prizes, I'm told)… and a hashtag voting system for the audience to vote for the winner of the Battle of the Bands.
Pretty cool. When I hear of something like this, though, the first question that usually pops into my head is… why?
The ever-patient Rax said, "Have you ever been to see a band and wished that you could tell them (and the rest of the world for that matter) exactly how freakin' awesome they are!? Well, that was the initial driver behind putting on The Twitgigs Experiment. Twitter is the perfect medium to bring together musicians and music lovers."
YES! Like Elvis!
So – how do you buy tickets and get involved? You have to follow @twitgigs (hey, this IS a Twitter-enabled event), and then buy your £5.50 tickets here (and you have to be over 18).
The Billy Mays Moment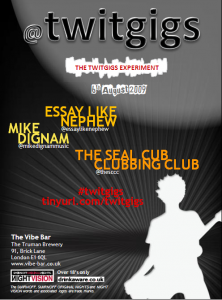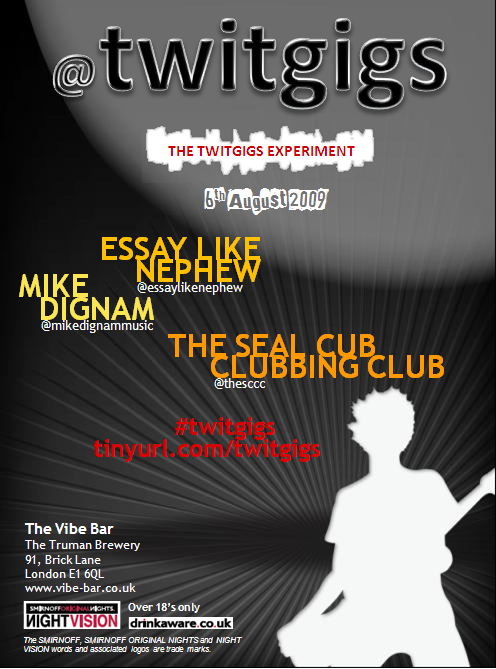 But wait, there's more! Rax has generously given me five tickets to give away to folks in London. So if you're in London and would like one, re-tweet this post, and you'll be able to go to what looks like a ton of fun.
I'm just glad I'll be able to follow the event from across the pond. Don't you love technology and social media?
What do you think of events like this? Do leave a comment; I'd love to know.