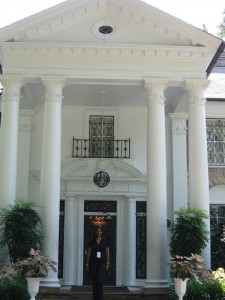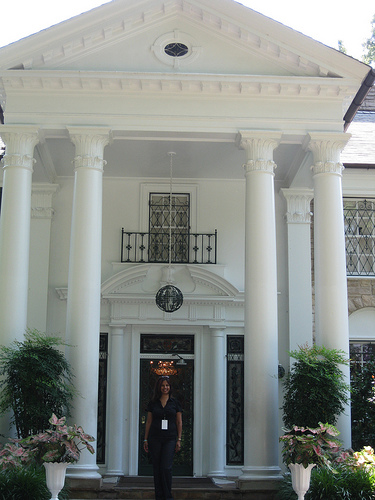 One of the things that struck me about Elvis' former home on our recent road trip through Tennessee was just how comfortable it looks.
Graceland's certainly an imposing structure when seen from afar – or even the front. But once you get inside, the rooms aren't vast and the furniture looks really comfy. It doesn't look too much like a rock star's home, unlike some of the mansions you see on Cribs; it looks like a place you'd want to hang out in.
So this week, I'm highlighting five of my Tweeps in the greater marketing communications community who aren't just rock stars at what they do; but more importantly, they're good, honest people whom I feel comfortable with.
1. Robin Lane (@robinhlane). I first came in contact with Robin a few years ago while she was still at Vocus, and have been a fan ever since. She's an amazing PR professional but more than knowing the mechanics of the business inside out, she builds and maintains relationships.
2. Arik Hanson (@arikhanson). Arik and I started "talking" on Twitter, and finally met at BlogPotomac earlier this year. Boy, is he a nice guy! He knows who he is, but he won't beat you over the head with it. And that's saying a lot for someone of his caliber and standing in the community.
3. Leigh Fazzina (@leighfazzina). Will you look at this woman's bio? My god, what a rock star! But what's even more amazing about Leigh are her energy and generosity of spirit. Just looking at her avatar is a a pick-me-up.
4. Arun Rajagopal (@arun4). I don't even remember how Arun and I came across each other, but he's now one of my closest Twitter friends. He's great at what he does – advertising – but he's just FUN to talk to. And he cares; you can tell that from the minute you start talking to him.
5. Judy Gombita (@jgombita). As far as rock stars go, Judy's at the stratospheric level. We could probably take everything the rest of us know and it would fit on her little finger. But the even greater thing about Judy is that she never lets you get lazy. She'll challenge – and make you think – about everything you think you know.
There are many more Tweeps who give me immense value – these are just five of them. Even if you don't work in the PR/MarComm areas, I believe you should get to know them. Because they're like Graceland: imposing but oh so comfortable to be around.
Who're your "Graceland" tweeps? I'd love to know.