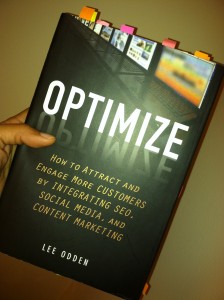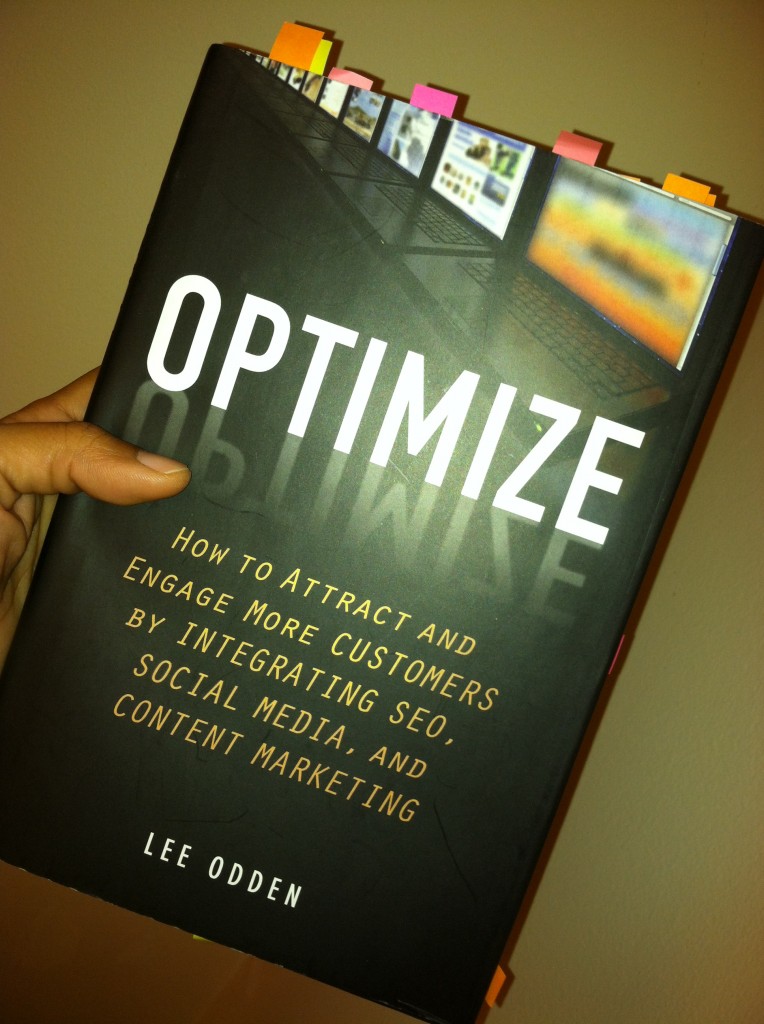 I don't do a lot of book reviews. Because I don't like to skim books, I really read them, and that takes time.
And time is the most precious thing we have.
However, one book I couldn't put down was Lee Odden's Optimize, which he graciously sent me earlier this year (disclosure: I received a free copy of the book but was not even asked to write a review). I was so excited when it arrived, that I immediately started thumbing through it.
Yup, that's a photo of my copy of the book, with all those little flags, and sticky thingummies.
It's just a terrific book – not just about "SEO," but much more about getting into an "optimized state of mind."
That is where you integrate social principles and a community element into content marketing – and to which you naturally apply good SEO principles – to grow a business that flourishes through attraction and engagement.
And if you're going to stay competitive in today's marketplace – forget about excelling, it takes so much to just stay abreast – you have to be able to this. And, ideally, start to do it better and better.
Ever since I met Lee at the 2008 PRSA International Conference, I've been blown away by not just how smart he is, but how kind and generous he is with his time and expertise. I've emailed him so many times with random questions, and he's always found the time to answer me… and he is way busier than I am.
I truly believe he is one of the top SEO PR experts of our day, if not the toppermost of the poppermost, and I pinch myself that I actually know him.
In fact, I have a sneaking suspicion Lee actually lives in Optimize Peak on Mount Olympus… but I haven't been able to verify that yet.
Talking Optimize with Lee Odden
A few months ago, Lee took the time out of his hectic schedule to chat with me about the book. I apologize in advance for the quality in the beginning – we were talking via Skype, and when the connection decided to act up, there wasn't much we could do about it.
The video is rather long (for me); it clocks in at around 11:36 minutes (including the intro/outtro), but I do think it will be well worth your time. Among others, Lee discusses:
what constitutes an optimized state of mind, and which business functions need to be in that mindset
optimizing B2B v. B2C communications
how to keep prospects moving through the sales funnel
how to stay competitive in the world of search
… and much, much more!
Here's the video (and click here if, for some reason, the video doesn't show up in your Reader):
Good stuff, right?
I don't often urge people to run out and buy a particular book, but this year, Lee's book is one of three that I've been recommending for just that particular aerobic activity.
And seeing as how it's only December 17, I'm sure there are many of you who are scrambling to get last-minute gifts.
This would be a terrific gift for anyone who wants to learn more about how communication should work today, who wants to learn more about SEO itself from one of the leaders in the field, and who knows success doesn't just "happen."
In fact, do yourself a favor; buy two copies, one for yourself, and one to give away. So pull your wallet out and go grab Optimize as soon as you can.
Trust me, you won't regret it.