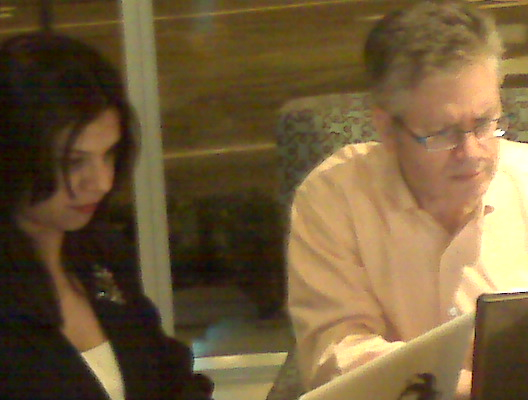 Measurement takes a holiday
What happens when you get a roomful of communicators listening to a bunch of speakers on measurement? It's not what you think.
In this joint post, Sean Williams and I sat atop the ivory tower after Day 1 of the IABC Research & Measurement Conference – and issued what my husband would call "grand pronouncements."
Shonali: Coming down in the elevator, I chanced upon a conversation between a gentleman attending an event hosted by The Gates Foundation, and an attendee of "our" conference.
She said, "[Your conference] sounds so much more interesting. I doubt mine will be as riveting as yours."
On being asked, she said, deprecatingly, that it was a communications conference. At this point, I couldn't resist.
I said, "You mean you're not overwhelmed with excitement over the IABC Research and Measurement Conference?"

She looked at me as if I was crazy.

Just before she found out I was a speaker.
Was I mean? I don't think so. Naughty, perhaps. Not mean.
Heck, if you're going to say whatever you like in an elevator, so can I.
Sean: Several people seemed quite taken by the morning sessions, though one person I encountered less so.
She hemmed and hawed when I asked what she thought of the conference so far, never a particularly good sign.
But in the end, she didn't seem to have a clear set of objectives for attending the conference.
This is a huge theme in my teaching: objectives are everything.
If you don't know what you're hoping to achieve, you don't have much of a shot at achieving it.
Shonali: A common editorial comment I keep hearing from attendees at measurement conferences (or presentations related to measurement) is: "It doesn't seem like the basics have changed… so what do I take away from this?"
It drives me a little crazy.
No, the basics haven't changed. That's because they're the basics.
How can you not grasp the importance of measuring numbers that matter instead of numbers that make you look good?
What part of, "measure [what] has an impact as opposed to simply focusing on the tools," isn't easy to understand?
Sean: Angela Sinickas is a treasure trove of case studies. I have to remind myself to call her for research fodder.
I saw Angela at PRSA's 2010 International Conference, and suddenly realized I'd seen her presentation before. Some of that no doubt is that she boasts 23 of the Forbes worldwide list as clients.
Maybe it's rank envy!
I love the fact that she represents for measurement.
I wonder what she might do with Dr. Don Stacks and Dr. Don Wright nipping at her heels on projects.
Shonali: What was really interesting about this conference was that it wasn't the usual [measurement expert] suspects presenting.
Well, not all the usual suspects.
Well, not two-thirds of the usual suspects.
Well…
Sean: Shel Holtz said you have to measure something, and it doesn't have to be complicated.
I always say that getting your objectives right is the single best start to a measurement program.
You've got to measure something, and starting with progress on attaining objectives is a great place to start.
I also loved that Patti Phillips went 100 percent professor on the crowd, demanding us to calculate.
Represent. Ruminate. Calculate.
Especially when it's way after hours. (Time of scheduling this post: 11:59 pm PST, Thursday, November 18).

What else is a conference for?
This might be cross-posted at some point to Communication AMMO! Because we felt like it.