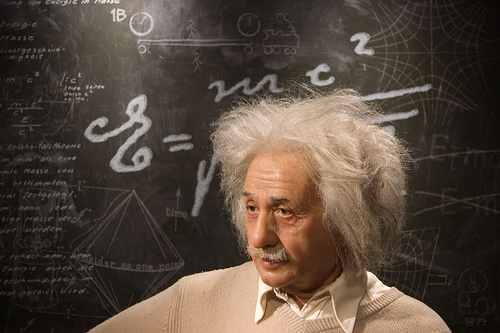 Seeing as how this week was dominated (for me) by measurement – both in terms of conversation and conferences – today's weekly roundup features seven posts that I think are well worth your time.
You know, as you get ready to stuff turkeys and do all sorts of other unmentionable things.
You don't have to be Einstein to start measuring smartly.
These posts should get you on your way.
1. Beginners' guide to web data and analytics: ten steps to love and success, from Avinash Kaushik's Occam's Razor.
Why: It would be tough for me to pull out a single "why" when this post is chock-full of them. Suffice it to say that if you're trying to make sense of web analytics, this is a great place for you to start.
2. How much does a house cost? by Don Bartholomew.
Why: I tweeted this post out so many times, it would be insane not to include it in a recap. There are no absolutes when it comes to measurement, as Don points out… only – and, perhaps most importantly – context.
3. My letter to the C-Suite, by John Lovett over at Web Analytics Demystified.
Why: Ever wanted to tell you-know-who where to get off? John sets a beautiful example.
4. Who owns the news? by Daniel Sitkin at Metrica's Measurement Matters.
Why: it's one of the most important questions we can – and need to – ask.
5. Don't sweat the Twitter metrics, by Seth Duncan at Context Analytics' blog (now Beyond Analytics).
Why: Measuring the channels is not important. Measuring what you're trying to achieve through those channels is.
6. Measuring communication without crying, by Sean Williams for IABC's CW Bulletin.
Why: Smart measurement isn't tough. Really. It just takes smart thinking.
7. Automation in public relations measurement: yea/nay? by Seth Duncan, which he wrote as a guest post for me.
Why: OK, so I have two posts by Seth in this roundup and, yes, one is from my own blog. But that's because he is just. So. Smart.
And speaking of Seth, he'll be discussing this very issue – automated measurement – on this week's #measurePR Twitterchat. Think you can make it?
Image: Sebastian Niedlich via Flickr, Creative Commons