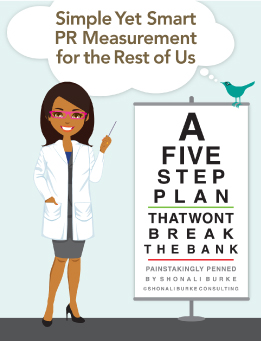 What do you do if you're constantly inundated with questions on PR measurement, even if everyone seems to have written a book on them?
Why, you write a book, of course!
Writing the book on PR measurement
Yup. I did it. I wrote a book. So now everyone can stop asking me when I'm going to write a book! I'm looking at you, Geoff Livingston…
If you talk to me frequently on the fascinating (IMHO) topic of measuring public relations, you'll know that I really luhv numbers. And measurement. So much so that I keep a measuring tape in my handbag. It's true, ask Geoff Livingston.
And since many of my FAQs are on measurement, I finally (!) realized I should just write 'em all down.
And the result is Simple Yet Smart PR Measurement for the Rest of Us.
Yes, Us.
Because, like most of you, I don't usually have access to fancy toolkits and dashboards.
I'm usually fighting to make the case for measurement that goes beyond clips and impressions. I'm constantly validating for clients why they should do X, or why they should pay even a couple hundred dollars a month (believe me, that is very reasonable for a decent measurement dashboard), for, well, a decent measurement dashboard. And when I get a client like that, the angels start singing.
Sorry, I digress.
So, anyway. Because most of us (or the rest of us, depending on how you look at it) don't always have a lot of moolah for smart measurement solutions, most of my presentations and speaking engagements focus on how you can put a good PR measurement program in place without a ton of bells and whistles.
Et voilà . Enter my first ebook!
I hope you will download it (free, no strings attached!), read, enjoy, share… do whatever you'd like with it (just don't plagiarize me, please, that's not cool). And please let me know what you'd like to see in future books ("e" or otherwise).
They are highlighted in the credits, but I must give thanks to:
Go forth and measure!