You know how some people are constantly complaining, to the point you really don't want to be around them?
And just as you prepare to slink off into the distance, you come across someone who's just so full of life, enthusiasm and SMARTS you stop and say, "Whoa. I want to know more about this dude!"
That's Greg Rokisky. I can't remember where/when we first interacted… it's been a while!… but he's just one of those indefatigable spirits that makes you marvel at how much energy they have.
So of course he's our next #SocialPR Spotlight. I give you: Greg Rokisky.
Introduce yourself – who are you and what do you do?
Hi friends! My name is Greg and I'm a location independent social media manager for a national publishing company (read: I can work in my pajamas, at a local coffee shop or even on a tropical island as long as there's Wi-Fi), as well as a creative services consultant and Netflix binge enthusiast ("Stranger Things," amirite?!).
I live in mid-Michigan and first started my career at a full-service public relations firm in Lansing, MI, where I spent three years working to move Michigan forward through integrated public relations.
I've recently shifted to the digital side of things and am currently working on launching my own creative consulting business, The Colorful Perspective.
What do you do in your free time?
Free time? Who needs free time?
Why do you care about Social PR?
Social PR brings back the listening to public relations that encourages practitioners to make smart and strategic decisions to communicate and reach their goals and objectives.
This thinking has forced me to truly analyze all of my efforts under a microscope to ensure they directly tie back to overarching goals. It's made me a more thoughtful communicator.
What's your secret Social PR Superhero power?
Creative social media strategy is my jam. Provide me some goals and I will add in platforms, strategy, intention and a colorful flare to any campaign to help move your brand forward. ***
***Disclaimer: I only use my powers for good, never for evil  :-)
How are you using the Social PR Virtuoso Master Course to grow your Social PR superpowers?
Shonali's course has, first and foremost, gifted me the modules I continuously refer back to.
These have helped me shift my PR habits toward a more strategic, measurable operation.
In addition, the worksheets and workflows (including a priceless goal mapping matrix to tie business goals to Social PR goals) have amplified my productivity. Read: Because of the Master Course, I have more time to read the latest Harry Potter book!
What is one Social PR campaign you're in love with? Why?
Shonali actually mentioned a recent campaign that Sweden implemented, where they curate local Swedish citizens to run the official @sweden Twitter account each week.
Curiosity pushed me into doing some of my own digging and research, and I can't tell you how much I love the campaign. Who better to convince potential visitors to visit Sweden than the everyday citizens who know the best attractions like the back of their hand? Not to mention, this is a low-cost campaign that provide the brand that authenticity we all strive toward.
Social PR grade: A, for A-mazing.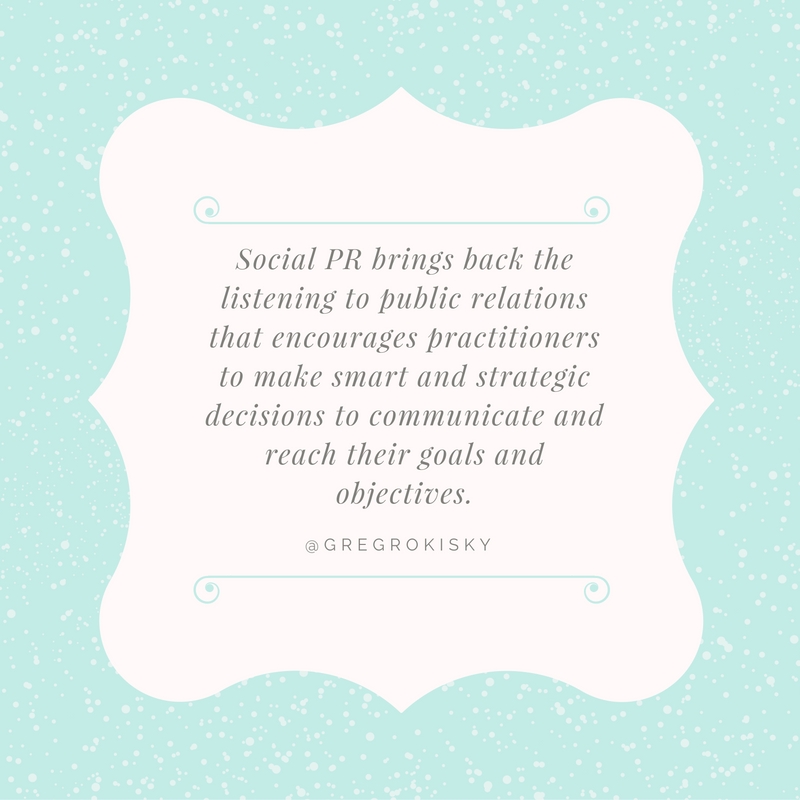 What tip(s) would you give those starting on the road to Superhero-level Social PR?
They say good things come in 3s, so:
1. Aim for the best content, not only the right content.
Don't just push out the first article/course/white paper you think of. Instead, put in the work to make sure it's something that will push your company/client/brand forward and also be relevant to your audience(s).
2. Don't be afraid of numbers.
Great Social PR isn't possible without getting down and dirty with your analytics. Looking for a place to start? Join Shonali's #measurePR monthly Twitter chat. I've met so many current colleagues/friends through that chat, in addition to learning a TON on measurement/evaluation.
3. Remember education is a lifelong process.
You're never done learning, so read voraciously and never stop growing your public relations (and overall) toolkit.
Who inspires you? Why?
I try to find something inspiring in everyone I meet. By doing so, I can focus on optimism and learning from the people I encounter every day. If I had to pick one person, though, it'd be my mom. She's faced countless hurdles in her life and has remained passionately optimistic. It's where I get my relentless optimism, despite being such a realist.
If you could only eat one thing for the rest of your life, what would it be and why?
Avocados. The possibilities are simply endless to what you can do with avocados – guacamole, salad topping, toast spread. And they are HEALTHY. And also…this amazing viral video.
Mic drop on the best food ever.
Harry Potter and avocados make a killer combo! Learn more about, and talk to, Greg on Instagram, Twitter, LinkedIn or email greg [at] thecolorfulperspective [dot] com.