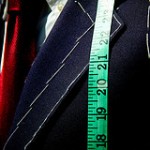 Guest Post by Jamie Garantziotis
Last week I went to visit the team at P. Johnson Tailors to pick up a jacket they were making for me.
Surrounded by the books, tools and fabrics that demonstrated centuries of skill and craft that form the foundation of the tailoring profession, I couldn't help but think a little about the current rate of change in the field of PR and communication.
There are similarities and differences between the professions, and in comparison, the PR profession feels young.
While these tailors work with painstaking precision according to techniques that have taken centuries to develop and years of training to perfect, and have been passed down through generations, we in the PR industry continue to face and adapt to new tools and methods that are refining and re-defining our profession (see, for example, the PRSA's latest initiative to redefine PR … literally!).
That's not to say that this is a bad thing, or that PR isn't built upon a foundation of core skills and concepts that include relationship building, writing and communication. In fact, my friend Harrison Kratz recently wrote a post on this blog about the very topic of fundamentals in public relations.
What it does demonstrate is that our profession is undergoing perhaps the greatest and most exciting evolution in its history.
For communicators to mirror the services of a tailor through bespoke communication solutions and services to clients and organizations, we now require a body of knowledge beyond these basics.
In a paradoxically fragmented yet increasingly connected media and communication sphere, this includes a suite of ever-growing communication platforms and technologies, and a new range of influencers and communities that are not only versed in these fields, but connected more than ever before.
This is forcing us to take a good hard look at transparency, ethics, measurement and accountability in our communication efforts, and to be increasingly nimble, agile and ready to respond at any time to any given situation.
Through all this, the goal of the communicator and public relations professional remain just the same as the tailor and their craft: to produce a service and product of superior quality for the client (or organization).
In that respect, you could say that the two professions are alike.
For me, while the fundamentals of our profession have existed for many years, current and ongoing changes in the field make it feel as though this is just the beginning.
Much like new fashions and techniques emerge for the tailor that allow individuals to break the mould and re-define the future, so too are bold communicators conversing and changing the game – and I for one am enjoying every minute of learning and evolving through this change.
Has there ever been a more exciting time to work in PR and communication?
I'd love to hear your thoughts.
Image: Hello Turkey Toe, Flickr, CC 2.0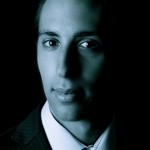 Jamie Garantziotis is a communication professional based in Melbourne, Australia, where he began his communication career with Southern Cross Austereo, and is the Member Communication Chair for IABC Victoria. When not indulging his passion for media and communication, you'll find him cycling in search of the perfect cup of specialty coffee.