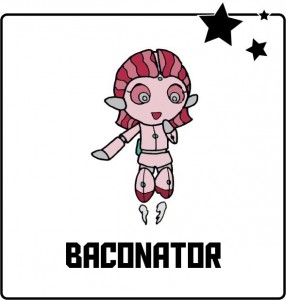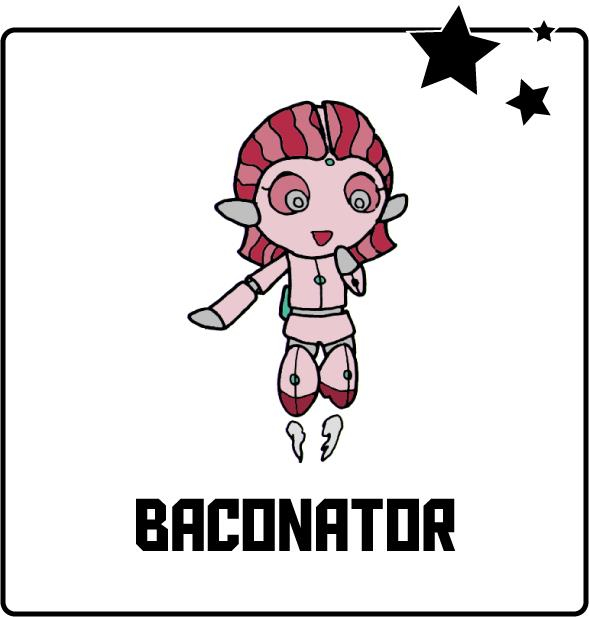 We bloggers like badges. Right here on WUL, there are a few that I'm proud of (you'll remember how thrilled I was when we finally got the Alltop badge).
But today I'm exceptionally proud to unveil my newest badge and, perhaps, my favorite of all: the Baconator.
And it came along with honorary membership into what I believe must be one of the most exclusive clubs in the world: the Bacon Association and Culinary Order of Nommers.
All dreamed up in what has to have been a genius moment by Erin Feldman.
It all started when we were joking around on Twitter, and then Facebook, about how much we love bacon. Remember how Klout tagged me as a bacon "influencer"?
Well, Erin decided to take that a step further. So for all of us who had been joking around, she created, of her own volition, both the society and a special badge for each of us.
Check them out: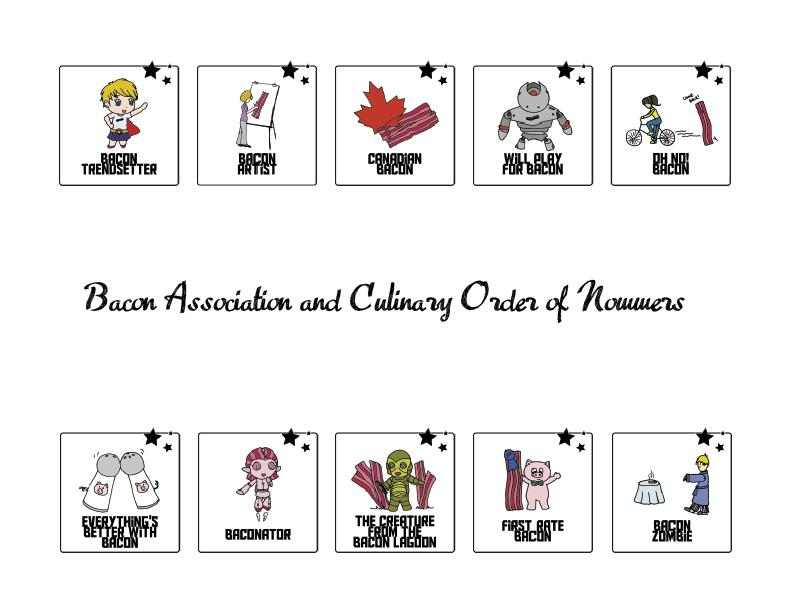 Erin uploaded these to Facebook, and tagged each one of us in our own badges, so you can't tell which one is for who from this image. But here's a game for you, if you'd like to play; guess which of these go together (you already know mine)… the badges are not as listed below, I mixed them up. I'm even including links to their blogs where I can and, needless to say, if you're one of 'em you can't play because that would be cheating:
(There aren't any prizes as of now for guessing them all correctly, by the way, but maybe Erin will come up with something for you if you impress her.)
 So what's the big deal about a bacon badge?
To me, this is what social media and, ultimately, human interaction, is all about.
It's not about racking up huge numbers of followers and fans.
It's not about being deemed "influential" on something.
It's not about mindlessly "networking" so that we can say, "Oh, I have X number of people in my network from all over the world."
Maybe one, or all, of those things will happen. But they shouldn't be, in my opinion, the goals.
It's about meeting people we might otherwise never have come into contact with.
Of all the badge-bearers, I have met only one in person – Gini – but I've come to know Joe, Brian, Kaarina, Ken and Erica well enough that we talk "off" social media, and I feel comfortable turning to them with questions and asking for help, and I'm slowly getting to know Nancy and Erin, and looking forward to getting to know Craig better.
It's about getting to know these people we might otherwise never have come into contact with.
It's about enriching our lives – personally and professionally – by learning from, and sharing with, these people we might otherwise never have come into contact with.
Since I started working independently three years ago, there is not a single piece of business I have worked on that has come to me in any way other than people feeling they know me.
One of my early clients was a client from a former life, and they came to me because they knew me. And since then, all the newer clients and speaking engagements that have come my way – I have not cold-pitched for any of them – have come to fruition because, through social media, people get to know me (or keep tabs on me). And then, when an opportunity arises, they call, or email, or DM, or send me a Facebook message.
Please know I'm not saying that you, particularly those of you who are business owners or managing social media for your organizations, should not consider the business potential of social media. It's huge. Or, at least, it can be.
But before anything else, you have to go back to what makes us all tick. And that's people meeting people, talking to people, working with people.
People.
That's what social media is all about.
So if you're one of those people who's constantly getting push back on using social media – and I know that still happens, much more often than we'd like – point the naysayers to this post. Just tell 'em The Baconator said so.
That's what I think; what do you think? Do share, I'd love to know. And Erin, thank you so much for my badge. I'll wear it proud and sing it loud!