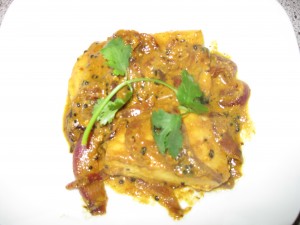 I had some cod that was getting a little too comfortable in the freezer, so decided to see what I could do with it. When you're a "Bong" (that's how Bengalis are referred to in India), fish isn't just what you grow up eating, it's an intrinsic part of your life.
We Bongs also like to think that a fishy diet makes us smarter than a lot of other people, but will probably never say so ourselves. Hey, we're "bhadralok."
Now that I've removed my tongue from my cheek, here's the totally fake (because I faked some of the typical preparation) Bengali Fish Curry I made earlier this week. @HiroBoga, this one's for you.
Shonali's Totally Fake Bengali Fish Curry (serves 2)
Ingredients
Any "white" fish (I used cod), de-boned; 1 tbsp cooking oil (Bongs would use mustard oil); 1 large red onion, sliced (if I'd done this right, I'd have ground and made it into a paste); 1 tbsp black (not yellow) mustard seeds; 1 ½ tsp ginger paste; 1 tsp coriander powder; ½ tsp turmeric powder; ½ cup plain nonfat yogurt; salt to taste.
Recipe
Heat oil until it's smoking in a large nonstick pan, then reduce heat to medium. Add mustard seeds (they should start crackling instantly). After a couple of seconds, add onions (or paste), and stir frequently until brown (but not burnt). Add ginger paste, cook for a few seconds, then add coriander, turmeric and salt. Mix well and after a couple of minutes, add the fish, turning gently and coating well with the gravy.
In a small bowl, beat the yogurt with a spoon until there are no lumps. Reducing heat to medium-low, stir yogurt into fish and mix well, taking care not to break the fish. Cover with a lid so that the fish gets cooked, turning once; it should only take a few minutes.
And that's it. Quick and easy, huh? Goes great with steamed rice and your vegetable of choice.
Notes: It's really important to get the oil smoking hot so that when you put in the mustard seeds, they cook instantly. Once you add the yogurt, make sure the heat is turned down to medium-low so that it doesn't curdle. Yogurt's a great way to add a mellow gravy to almost any Indian dish, by the way, so try it with your other favorite recipes.