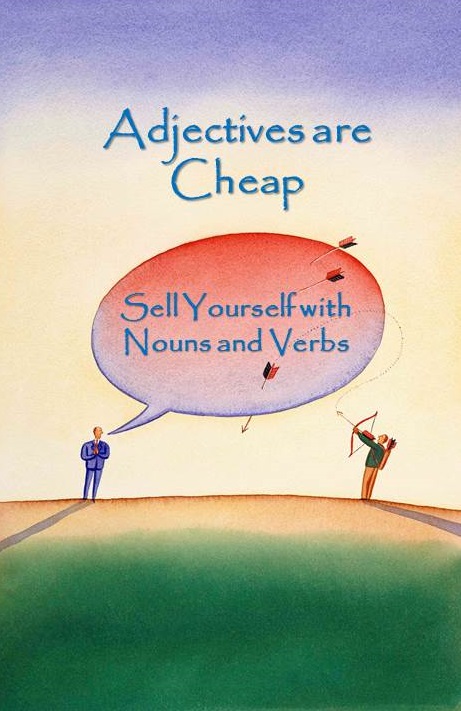 Guest Post by Ann Wylie
"Adjectives are cheap. Everyone is a 'best selling' author or a 'sought after' speaker or a 'world class' coach. Nouns are more expensive: How many BOOKS, how many SPEECHES, how many CLIENTS?" ~Alan Weiss, principle, Summit Consulting Group
My long-term webmaster is leaving for greener pastures "" Sniff! "" which has left me searching for help from, among other resources, oDesk. Here's what I've found:
Don't get shot down.
Make your argument with verbs and nouns, not adjectives and adverbs.
Adjectives are cheap.
This candidate tries to dazzle with modifiers and exclamation points:
"If you are looking for a reliable and responsible helper, then look no further! I am a low cost, on demand expert! I am a dedicated, motivated, and hard working individual who is ready to get the job done! I am confident that my skills and knowledge are very useful for the position. I am a responsive, resourceful, and detailed worker that can provide quality results at fair price. I dream to be known not through my name but through the quality of work that I will provide to my employers. Your business is my top priority. I am ready to provide customer satisfaction by offering the best quality and creativity in my work and delivering assignments on time."
Nouns are expensive.
This one sells with facts and figures:
"Wordpress is my life. I spend 8-10 hours every day on WordPress.

*1200+ oDesk working hours

*70+ jobs completed on oDesk successfully

*15+ oDesk Tests

*Top 10% oDesk Freelancer for WordPress"
But verbs are best of all.
Want to really dazzle me? Use verbs to show me what you've accomplished for others, and how you could help me. Remember, the verb is the story. So try something like:
"I've helped clients:

*Increase sales by 12% by implementing a new SEO tool.

*Reduce marketing costs by 45% by creating a widget that puts the e-zine together for you.

*Deliver new products and services by developing an app that translates long words to shorter ones."
 Catch Your Readers
Want more tips, tweaks and techniques for writing messages that sell products, services, programs and ideas? Join Ann Wylie for Catch Your Readers, a two-day Master Class, in Kansas City on April 29-30 and in Portland, Oregon on July 23-24.
Photo derivative of image courtesy Ann Wylie, used with permission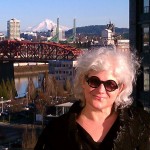 Ann Wylie (WylieComm.com) works with communicators who want to reach more readers and with organizations that want to get the word out. To learn more about her training, consulting or writing and editing services, contact Ann. Get FREE writing tips when you subscribe to Ann's popular e-zine.