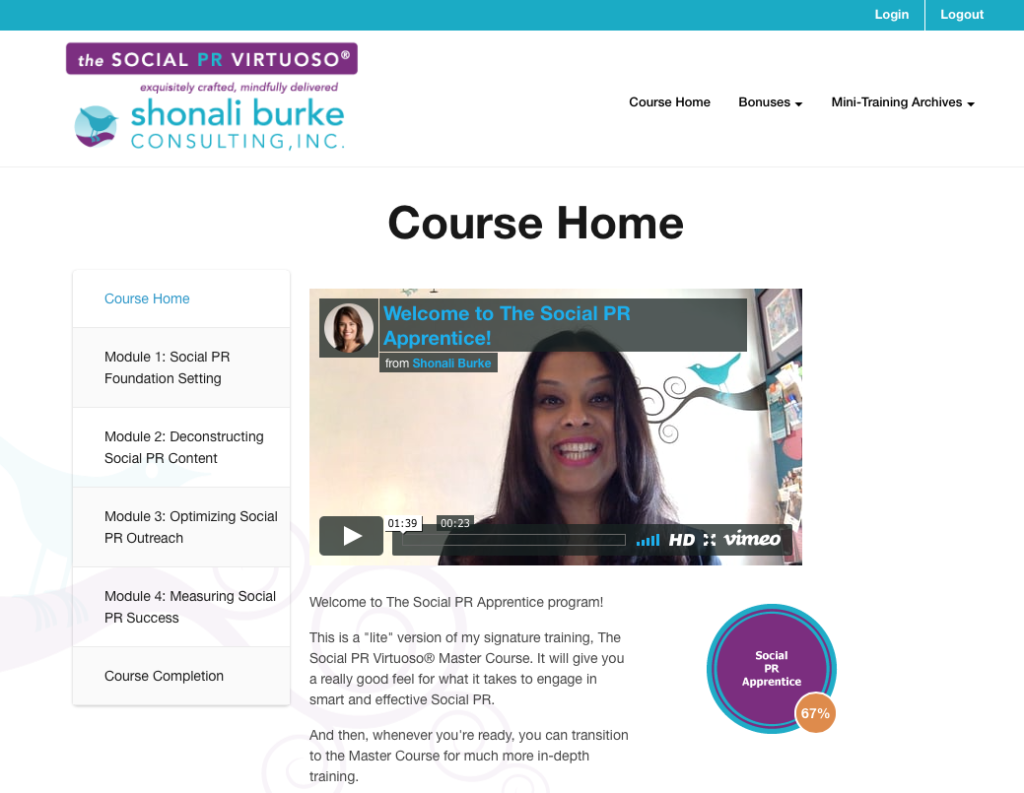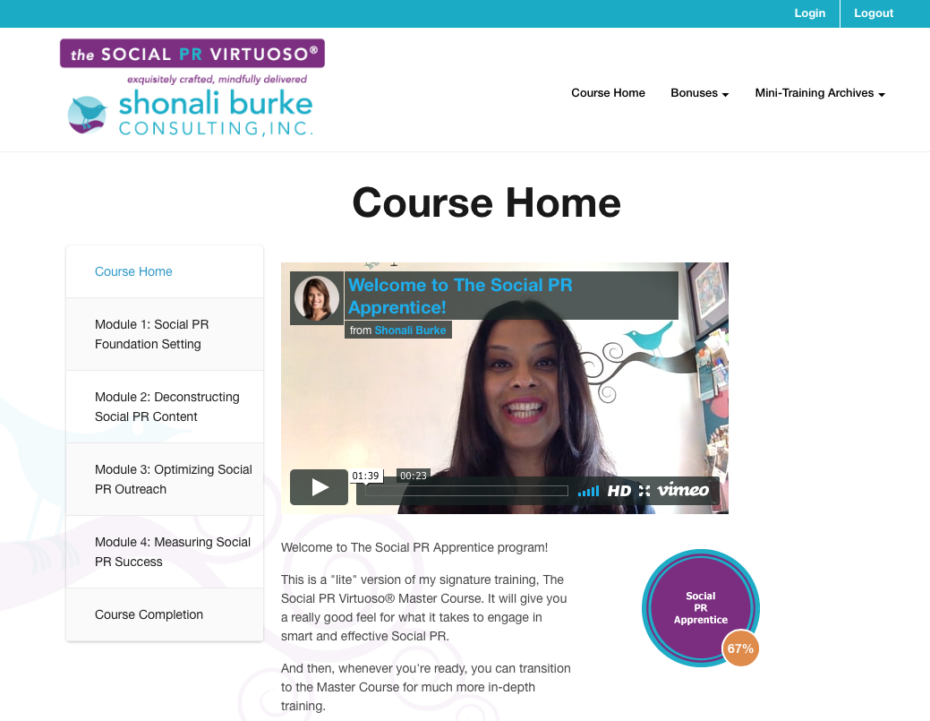 You're probably gearing up to watch the Oscars tonight, or do your laundry (don't do laundry on Sundays, that's no fun!), or whatever it is you do on a Sunday.
And so you should.
But one thing you should DEFINITELY do today is check out my NEW training program, which you are hearing of before anyone else.
And which, if you act today, you can get for an incredibly low, ONE-TIME fee.
Drum roll, please… The Social PR Apprentice™ is here!
What is it, why is it, and how much is it?
What
A "lite" version of my Social PR Virtuoso® Master Course (registration just closed, sorry), that is MUCH more budget-friendly.

More deets here but basically:

An incredibly compact and effective training program that gets you up and running with solid Social PR IMMEDIATELY

12

13 lessons in total

(2+ hours of recorded instruction, NOT counting the bonus training), that you can take in ANY order, ANY time you want, and AS MANY times as you want
10+ unbelievably useful and effective handouts, worksheets, mind maps, cheat sheets, AND slide decks for

all

the lessons
Quizzes and exercises throughout the training to help you test your newfound knowledge AND apply it at work
In-depth

case studies

that show you how to apply Social PR smarts in ANY situation
Copy and pitching swipe files you can adapt to your OWN use, and that no one (other than Social PR Virtuosos) has access to
Immediate and LIFETIME access to the Social PR Apprentice

™

course site
Cool

progress badge and certificate of completion

once you get to 100%
Also? Amazing bonuses, like:

getting

access to the invitation-only Social PR Virtuoso® community

(different from the Social PR Posse, really incredible networking + biz-dev + career advice/help here)
participating in our

monthly group calls

(super-valuable, see screen grab below of just ONE of the comments from this Friday's call), AND
lifetime access to a

replica replay – including slides + ALL handouts – of the "Lift Off!" mini-training

.

Why
I loved that I was able to deliver such a valuable training experience to so many wonderful PR pros via my recently-concluded "Lift Off!" mini-training.
I
can't tell you how grateful I was (am) for the excitement and engagement they showed.
And SO many people were dying to sign up for the Master Course, but had valid budget constraints.
So I wanted to create something that would still give them a great Social PR foundation, but one over which you didn't need to pop the Pepto.
This way, then CAN keep the momentum of "Lift Off!" going, and get up and running with smart Social PR immediately.
How much

Today ONLY: a one-time payment of $79, for lifetime access.
Yes, you read that right, so you can stop rubbing your eyes.

Tomorrow that goes up to $99, and on Tuesday, Feb. 28, to $129.
Even at the $129 range, you're getting an incredible bargain.
But at $79? I'm basically giving it away!
I totally get people thinking multiple times about investing $499 in the Master Course. I would too.
But if you're serious about taking charge of your Social PR career, are ready for a kick-butt training that is also friendly on your wallet …
… this is one deal you should grab NOW.
So no matter who does or doesn't win at the Oscars tonight – YOU certainly will.
Also? Happy Sunday!