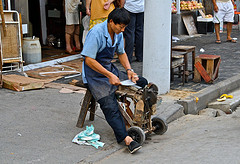 Smart small business owners are constantly learning and sharing tips and tricks of the trade, not just to stay ahead of the pack, but to keep their own skills sharp. This week's roundup features seven posts from around the web that focus on business best practices.
Image: Sung Ming Whang via Flickr, CC 4.0
Why: Do you want to know how to price your products more effectively? In this post for Tuts+,  Andrew Blackman explores why paying a little attention to the details of pricing could make a big difference to your bottom line.
2. Before You Respond to that Email, Pause
Why: Most people today expect an instantaneous reply to any message. In this guest post for Harvard Business Review, Anthony K. Tjan offers some tips for effective communication.
3. How to Set Up Google Analytics Goals and Score More Conversions!
Why: Goals in Google Analytics transform tons of data into easy to focus on metrics. Ian Cleary shares some Goals that will help focus your attention.
4. The Only Networking Rule You'll Ever Need to Remember
Why:When so much is written about networking and business, there are some unusual tips here.
5. What Playing the Oboe Taught Me About Building My Own PR Practice
Why: What lessons from your past do you apply to your career? In this WUL post, Maura Lafferty examines PR lessons she learned from playing the oboe.
6. 10 Must Read Content Marketing Posts for 2015
Why: Content marketing has remained a hot topic during 2014. Lee Odden showcases 10 of Top Rank Blog's most useful content marketing posts.
7. When the Intermediary is not Adding Value
Why: Do you let people to subscribe to your blog through a reader? Valeria Maltoni aka Conversation Agent explores options to syndicate content.
As a business owner, what best practice tips and tricks can you share in the comments below? You know what they say, all of us are smarter than just one of us!