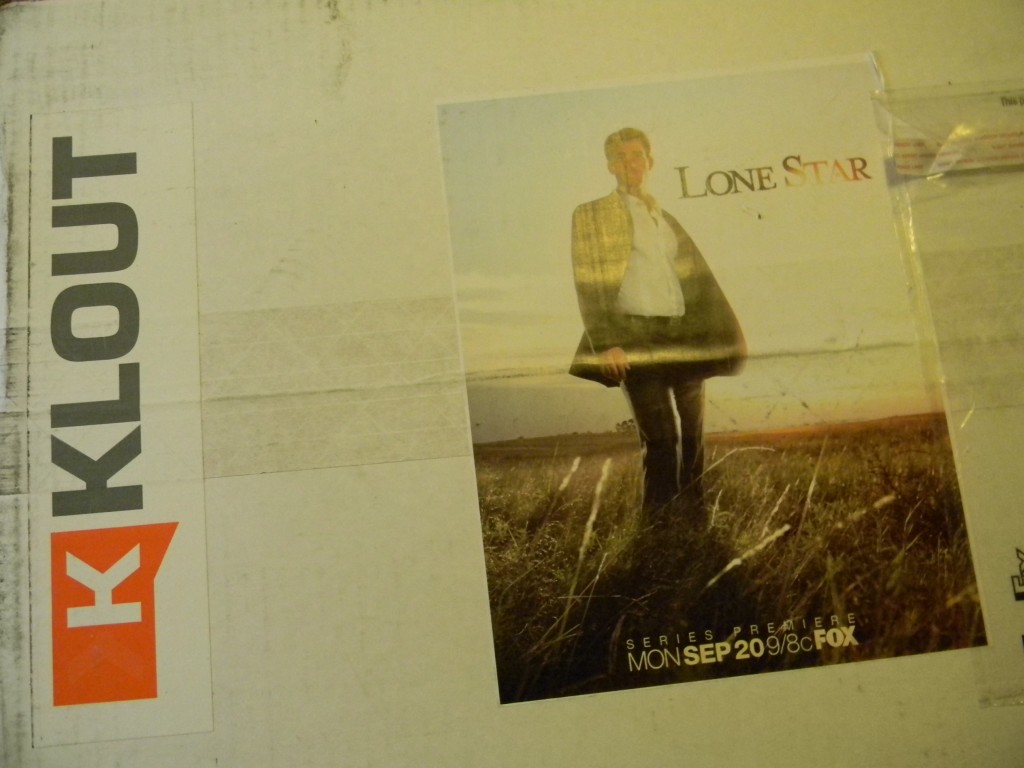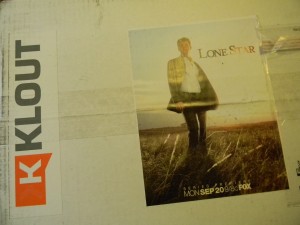 I watched the pilot episode of Lone Star last night (it debuts tonight on Fox, 9/8 Central).
I was able to do this 24 hours ahead of time because I was apparently identified as one of a group of Klout influencers who were eligible for "Klout perks."
Klout partnered with Fox to send Lone Star goodie bags to said influencers ahead of the show's official premier, to…
… well, you can hazard a guess why.
So here's what was in the goodie bag
which was actually a very large FedEx box, which will come in handy the next time I have to take a bunch of stuff down to Goodwill:
A DVD copy of the pilot; a Lone Star t-shirt (good for working out); (plastic) beer mugs (going in the trash); a cooler (nice); (plastic) wine glasses (trash-bound); a (plastic) wine bucket (hmm…); a beer/wine opener/keychain (trash); two posters of the show (trash); and a humongous tin (aluminum?) Lone Star-branded popcorn bucket (will be good for stashing my husband's baseball caps in) filled with two types of popcorn (I kid you not).
To be very, very clear, I was given all of the above as a free product or sample because Klout identified me as an influencer. I was under no obligation to receive the sample or talk about this company. I get no additional benefits for talking about the product or company.
So, what did I think?
Part I: The swag and marketing

The swag was nice, well thought out, and neatly put together, if you can get past my asides above. And who's going to say they don't like being identified as an "influencer"?
If you're going to implement such blogger outreach, here are some thoughts to keep in mind:
1. Media drops still live
This reminds me of a media outreach tactic we used to implement, when I worked at a job where media reviews of theater shows could have a significant impact on how short- or long-lived the run was.
Pre-9/11, we'd send them goodie bags of show-related swag, because this was supposed to evoke some interest in the show, and perk up their interest in attending a preview.
The most outrageous ones I can remember were pyramid-shaped cakes to promote Elton John and Tim Rice's Aida.
I know. Don't go there.
In retrospect, I honestly don't know if this tactic worked. But it sure was fun to pull together.
Post-9/11, of course, there was no question of "dropping" anything to the media, because they were all terrified of anthrax.
However, now it's interesting to see this same concept revive via "blogger drops."
I thought Klout was very clear about disclosure (which I've cited twice already in this post), though no doubt, the FTC had a part to play in that clarity.
2. Don't send stuff late
The idea was for those of us who received it to have a "preview party," if we so chose. Hence the wine bucket, cooler, popcorn, etc.
Too bad it arrived just a few days before the show actually premieres, because 3 – 4 days is nowhere near enough time to organize such a party (at least for me).
3. Don't send stale stuff
In addition to being late, the popcorn was stale.
I appreciate the marketing folk (at Klout? Fox? one of their agencies?) thinking of popcorn for the swag bag.
This was actually a very good idea, since what's a movie/TV show without popcorn?
However, it would have been smarter to send a few bags of instant popcorn that one could actually have microwaved had one been able to organize said party… or should one desire to gorge one's self on said popcorn, which, of course, one never does.
Part II: The show
I can't say I loved it, nor can I say I hated it.
The best way to sum up my reaction to it would be: meh.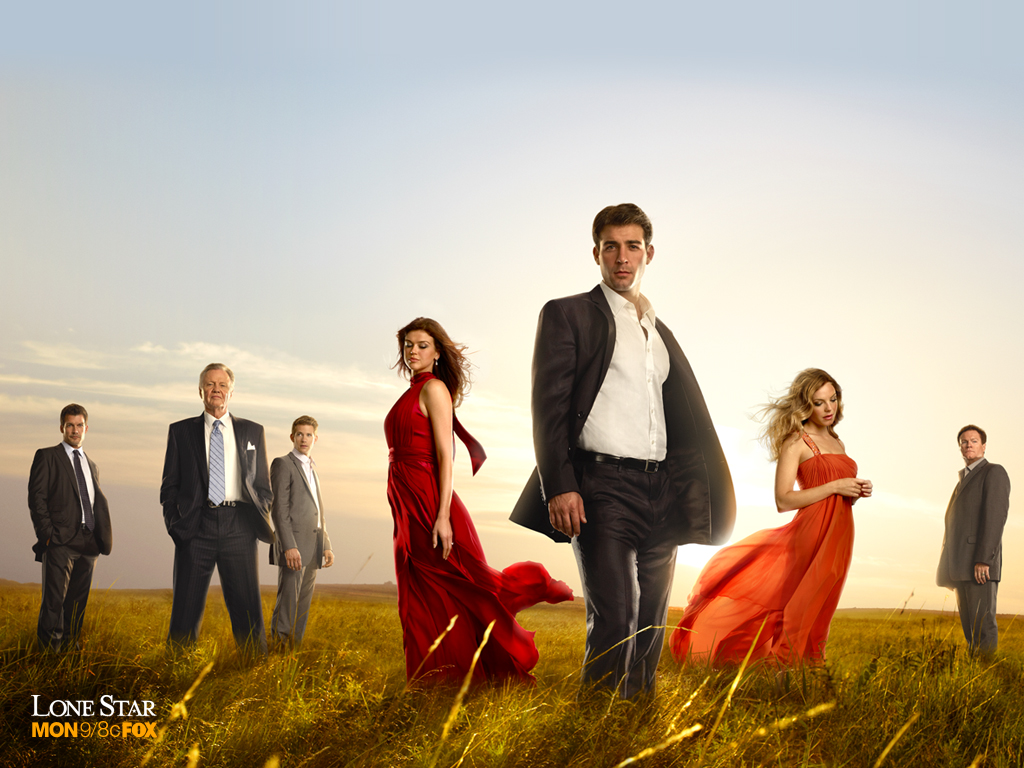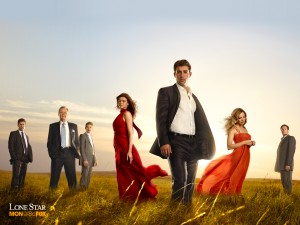 James Wolk's leading man is almost-but-not-quite George Clooney.
I'm a huge Clooney fan… which means that Mr. Wolk, dashing as he is, falls short.
And there isn't nearly enough Jon Voight, who may have kept me watching.
I found the storyline weak and, personally, found nothing in the pilot to keep me coming back, Midland, Texas, references notwithstanding.
Maybe it will get stronger, but those are my initial thoughts.
Part III: Why does it matter?
Frankly, though, does it really matter what I think of Lone Star?
As my husband sagely reminded me, I'm not a professional TV critic, and this blog isn't read by the millions of people who might tune in tonight.
So while I appreciate the popcorn, bucket, t-shirt, etc., I wonder
Was my inclusion simply based on how many Twitter followers I have (and no matter how many one has, someone else always has more) and how often I tweet (we know it's a lot), in the hopes that I might get a lot of people tweeting about it, if I tried?
Or was it because they think I really really care about TV shows?
If the latter, they're off the mark, my fascination with Adam Lambert notwithstanding, so I have to guess it's some combination of the former… which is certainly flattering.
But as Colin Alsheimer asked, will this [kind of outreach] build the buzz that moves the ratings needle?
So far, I've seen quite a few blog posts about receiving the swag (almost everyone was excited, naturally), but none that actually give the show a thumbs up upon watching the pilot, or even focus on the show.
Which is not surprising.
Would it have been smarter
to focus on people who blog and tweet primarily about TV shows? Who would really have been excited receiving this swag and want to share this information with their followers, perhaps encourage them to tune in?
I imagine they did that as well… and they're hedging their bets by including people like me in the promotion.
So, all in all, it's a smart plan. I hope something will stick for them.
But I'm sorry, Fox/Klout, that won't be me.

I think Lone Star is average and I'm not holding my breath to keep watching it.
But I will be delighted if mainstream America and you prove me wrong.
And thank you for the swag. It is much appreciated.