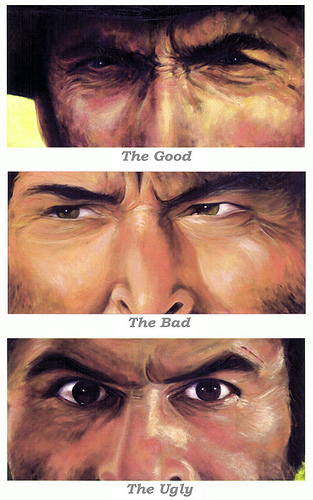 I've ranted quite a bit about the problem with PR, what the real future of PR is, and why good PR measurement is so important.
It seems only right that this week's roundup includes posts that highlight these points of view.
Yes, I've pointed you to some of them earlier, but I think they bear repeating.
You are welcome to regard or disregard as you please. After all, this is my weekly roundup.
Here we go.
1.  What McDonald's got wrong about Foursquare, social media strategy, measurement and ethical reporting, from Olivier Blanchard's The Brandbuilder Blog.
Why: It's all too easy to substitute fake outcomes for real ones. But was it the reporting of this so-called "success" that was screwed up instead? Olivier takes a hard look at this.
2. Advertising vs. Public Relations, from Mark Smiciklas' Flickrstream
Why: My post on the problem with PR sparked a few posts that asked what PR really is. I thought this visual put a great perspective on it.
3. Social media ROI – myth or measurable? from Arun Nair.
Why: Frankly, we need far more perspectives on PR and social media from outside our comfort zone.
4. The creative destruction of public relations, from Todd Defren's PR Squared.
Why: While I might have to get into an argument a debate with Todd as to the "definition of public relations," there's no denying this is what most people think "PR" is.
5. Released too soon, from David Pogue at the New York Times.
Why: Because this is exactly the kind of problem "PR" is supposed to fix, but can't. Get it right before it's out the door, people.
6. Don't let the tool wag the measurement dog, from Don Bartholomew.
Why: Because, as we discussed on #measurepr, far too often we get lost in measurement tools as opposed to outcomes.
7. The biggest problem with measurement, from Nick Lucido's PR Start.
Why: If a student can point this out, why can't we professionals get it?