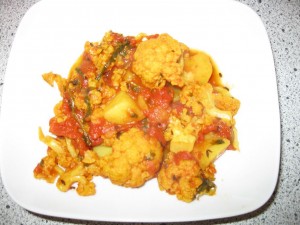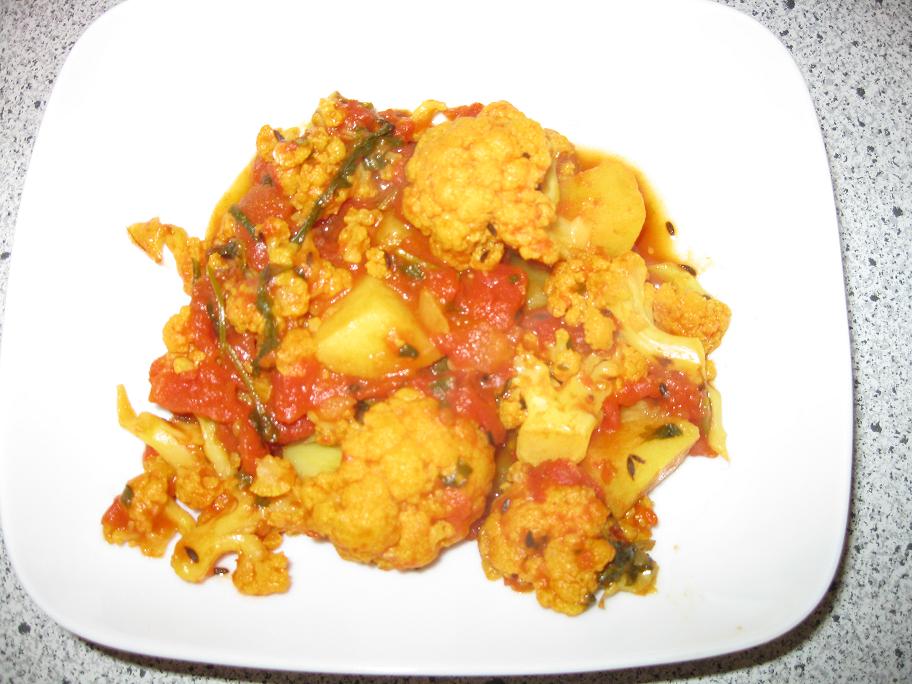 I don't know about you, but to me, the best way to enjoy vegetables is not to steam or boil them until they're mush, but to temper and cook them with just the right amount and mix of seasonings – sometimes not very many – so that you can really experience the inherent goodness of the vegetable.
In that spirit, here is my recipe for Aloo Gobhi, or potato and cauliflower curry, one of the best ways (IMNSHO) to eat cauliflower. It's a staple in Indian homes, and fast becoming a favorite in restaurants here in the US as well.
This recipe is especially for my friend Pat Elliott, who needs to eat all the good food she can right now and is particularly looking for foods with turmeric.
Pat – may the force be with you.
In-a-Flash Aloo Gobhi (serves 2)
Ingredients
Three red potatoes, peeled and cut into bite-size pieces; florets from half a fresh, large cauliflower; 4 tomatoes, chopped; 1 tbsp cumin seeds; ¾ tsp turmeric powder; 1 ½ tbsp cooking oil; 2 tbsp chopped cilantro; salt to taste.
(Told you it was easy.)
Recipe
Heat oil to smoking then turn heat down to medium. Add cumin seeds (they should sizzle immediately) and after a few seconds, add potato and cauliflower. Stir fry a few minutes, then add turmeric powder and salt. Mix well (so that you don't have blobs of turmeric sticking to random bits of potato or cauliflower).
Once it's well mixed, add the tomatoes. Mix a couple of times, then reduce heat on medium-low until potatoes are cooked and tomatoes have reduced to a gravy. Add cilantro, stir for a couple of minutes, and voilà … your aloo gobhi is ready.
Notes: If you'd like to omit the potato, just use a whole cauliflower instead. If you don't have fresh tomatoes on hand, you can substitute canned, diced tomatoes; I'd use one can in place of two fresh. You don't have to use cilantro, but I love the flavor and color it adds.
If you tried this, will you let me know how it turned out?