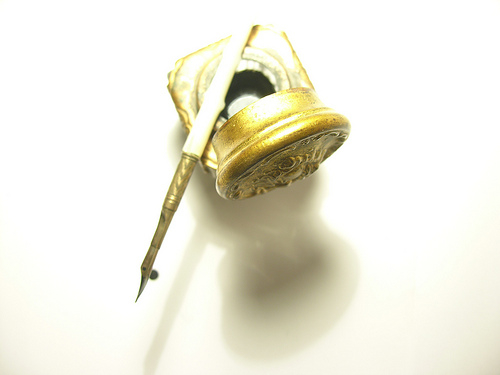 After I moderate today's #measurePR chat, I'll be heading out to the Hyatt Regency, Bethesda, where IABC/DC Metro is holding its annual Silver Inkwell awards gala.
We say the Silver Inkwells are the "signature of excellence" for area communicators.
Why?
Because when they submit their entries, they are judged not just on how beautiful or creative they are,
but whether or not they actually achieved results.
And not the "buzz" kind of results.
Real, measurable objectives, that changed awareness or behavior – or both.
Just as CRT/tanaka's Life… supplemented campaign did.
A couple of weeks ago, Jackson Wightman asked a very sensible question as he was walking down an alley:
Why does the measurement of PR debate never end?

Much is made of measurement these days. But is not the only important measure client/stakeholder happiness?

Is the debate on measurement really accomplishing much or is it simply "˜inside baseball'? If it accomplishing anything why are the conclusions gaining so little traction?
Frankly, that's a question I ask myself all the time.
Why are we still going around in circles
talking about "good" measurement and "bad" measurement, when we pretty much all agree that we should all be focusing on outcomes instead of outputs?
Because, for some reason, people hear this, and nod their heads… and then go back and do exactly what they were doing before.
Because their bosses tell them to, because their clients won't listen to anything else, or maybe because they are just too frightened to try something new and possibly fail.
There are a lot of things we can't change easily, even as an industry (or maybe especially as an industry).
But one way to start pointing folks towards outcomes is to incorporate them into our awards programs.

And not just the big, national/international ones.

The local ones, like ours… and yours.
Because everyone loves awards.
And if they really want to earn one, they'll do their darnedest to follow the guidelines, and submit entries that follow them as well.
That's one of the things I really like about the Silver Inkwells.
Out it goes

If the entry doesn't contain a clearly written statement of work that incorporates goals and objectives: out it goes.
If the entry doesn't include a budget and time frame: out it goes.
If the entry doesn't show measurable results that tie directly back to the stated goals and objectives: out it goes.
We give the "out it goes" treatment to a lot of entries.

Not because we like doing the old heave-ho.

But because we believe if someone's going to get an award, it had better be worth it and advance the profession.
It really needs to earn the title "signature of excellence."
That's something that you, as a professional communicator, can do as well, especially if you serve on a local, regional, national or international association board.
If you're not already laying down the law
when it comes to award criteria, please consider starting now.
I know it might feel like a drop in the ocean, but little drops of water, etc.
You can look at the IABC/DC Metro entry guidelines for inspiration, if you'd like, or look at the resources that IABC International provides as support to its Gold Quill awards program (our chapter follows essentially the same guidelines).
The more we define what a "signature of excellence" is, the more we will be able to get professionals to achieve and maintain those standards.
And if you can't make it to our program tonight (assuming you're in the area) or think you'd like to follow from afar – you can!
Thanks to Stacy Yamaoka of Yayastream, we'll be live-streaming our event.
Which means you can also catch Dr. Mark Drapeau in action, since he's our keynote speaker.
Pretty cool!
So, just come back here around 6:45 pm ET tonight, and start the player you see below.

See you soon!
Image: Ian Koss via Flickr, Creative Commons