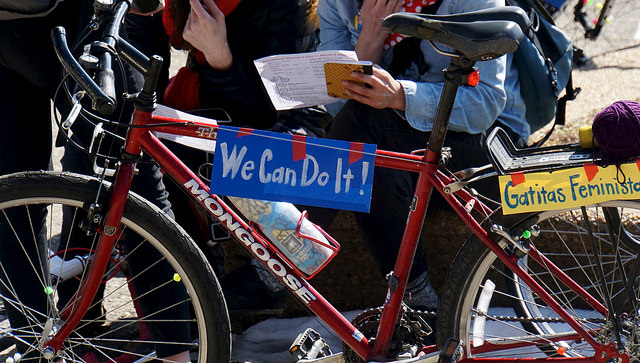 Watching what's been going on this International Women's Day (that's today, in case you're wondering and/or have been living under a rock) has been pretty interesting:
The New York Times has done a pretty good job of curating what's been happening around the world today
Emma Hawes pointed me to Netflix's tribute to women, which I personally found very compelling, and which is completely in line with …
… today's A Day Without A Woman campaign, which certainly got people talking … and not working, though you would have a completely valid point, IMHO, if you said this campaign has "inherent privilege," as a colleague put it (anonymous to protect her privacy)
one that the NYT missed, but that Andy Russell pointed me to, is this Business Insider story on State Street Advisors' Wall Street campaign to get more women on boards. Here's a snippet from the article, you really must read it:
"The world's third-largest asset manager installed a bronze statue of a defiant girl in front of Wall Street's iconic charging bull statue on Tuesday morning as part of its new campaign to pressure companies to add more women to their boards.

"State Street Global Advisors, a nearly $2.5 trillion investor and unit within State Street Corp., is rolling out the campaign ahead of International Women's Day on Wednesday.

"The money manager said it would vote against boards if a company failed to take steps to increase its number of members who are women. State Street plans to send a letter to 3,500 companies on Tuesday asking the companies to act.

"State Street is a huge player in the index fund world, managing about 90% of its assets in passive funds, which are often investing in companies held in the Russell 3000 and FTSE."
IWD or Women's Equality Day … or should there even be a difference?
In fact, it has felt much more like Women's Equality Day than the more traditional celebration of International Women's Day … and maybe that is a good, and much-needed, thing.
I haven't heard of too many PR/marketing agencies shuttering their doors today, though maybe someone will email me as soon as they read this, "WE WENT ON STRIKE!"
This was probably a good thing for their clients, seeing as how our field is dominated by women, though it is by no means equal to/for them.
Yes, this is an ongoing discussion in our field, as reinforced by Caroline Khalili's article in PR Daily today; also check out this PRWeek article from a few years ago.
So maybe agencies should have shuttered their doors today!
I greatly admire people who feel strongly enough to take to the streets in protest.
Some of us can't always do that when we'd like to, though … but perhaps we can inspire those about to walk in our footsteps in other ways.
So I asked my community:
what advice they'd give to young(er) women entering/in the PR field?
what they want to see happen for women in the PR field in the next 2 years, 5 years, 10 years
Here are some of the responses.
For women in PR from (mostly) women in PR
Elise Perkins: "Don't be afraid to negotiate but know your market before you do. Participate in all networking and educational opportunities available. See where you can add value, and then do so. Max out the employer match in your company's retirement plan – it's free money!"
(I really really wish someone had forced me to do that last bit starting 15 years ago!)
Kelly Jackson Davis: "I would tell young women entering the public relations field that from Day One, they need to see themselves as strategists who understand the business goals of their client or company. Yes, they will be knee deep in tactics in those entry-level jobs, but those who demonstrate their understanding of the broader purpose, mission and goals – and who can speak up with solid understanding of the bigger picture – will advance more quickly."
(YES YES YES)
Robyn Rudish-Laning: "Try not to let yourself get so hung up on what you thought you'd be doing or what you thought PR was that you miss out on all the valuable lessons along the way. Even if you're in a job you dislike, look for ways to learn, grow and succeed until you find the job you want."
Aimee West: "Honesty and Integrity go a long way, never be afraid to use them."
Elana Ilott: "Find a good mentor. It's critical to have role models in this industry who demonstrate how varied a career in PR can be, and what success looks like at different points over the span of a career."
(What I think is really smart about Elana's advice is that she's not just talking about when you get started… but to keep looking for success markers and mentors as you progress in your career. VERY smart.)
Rob Biesenbach: "I would advise young women to stop paying attention to all the articles and alleged 'studies' lecturing them on how women's communication styles undermine their authority and credibility in the workplace. Those that tell you to stop using phrases like 'I'm sorry' and 'I think,' to speak only in declarative sentences instead of posing questions, to beware of 'uptalk' and vocal fry.
"Ask yourself why you so rarely see articles critiquing men's communication patterns and seek out (or create!) work environments where so-called 'feminine' communication traits like listening, cooperation, relationship-building and basic human courtesy are valued."
(Wow. That's a great last word, Rob.)
If you have marked International Women's Day in some way, I'd love to know, particularly if you participated in #ADayWithoutAWoman.
Pass it on
And if you are, or come into contact with, women working in PR, please share these words of advice from their colleagues with them.
Give them a hug when they need it but are too nervous to ask; a shoulder to lean on when they're being particularly strong; a boost up when their soles are getting worn out.
Someone did that for each of us. The least we can do is pass it on.
Image: Ted Eytan via Flickr, CC BY-SA 2.0