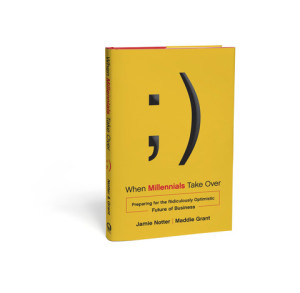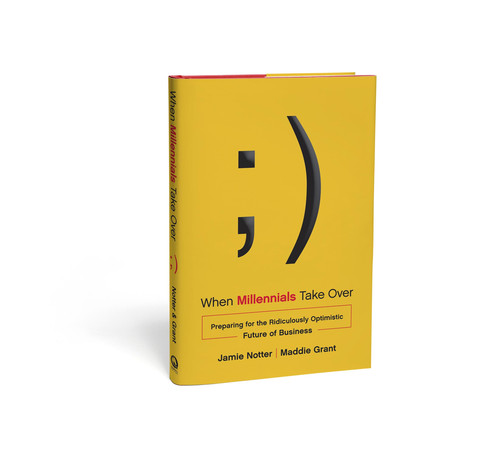 When brainstorming guests for the May #measurePR Twitter chat, I instantly thought of Maddie Grant and Richard Sheridan.
Maddie is a culture change consultant and digital strategist who is recognized for her authority on productive workplaces and communities, and co-author of the new book, When Millennials Take Over. Rich is CEO of Menlo Innovation (featured in Maddie's book) that is re-inventing the workplace, as well as author of Joy, Inc.
If there are two people who can tell you what it's like to work with Millennials, as well as help multiple generations in the workplace coexist, it's them. And you can't have a productive workplace if you're not measuring it. Ergo, Maddie + Rich = May's #measurePR.
With such complex backgrounds, I knew we were in for a treat. Here is some of what we talked about:
On how they got started:
I realized the real opportunity was to figure out how to "end human suffering in the world as it relates to technology." #measurepr
A1 I'm a culture consultant by way of social media and digital strategy for nonprofits :) #measurepr
On the types of metrics that they focus on for internal and external communities:
A2 engagement metrics are the most important, but including "lurkers" who read and share #measurepr
A2. We measure joy externally by seeing how many people are delighted by the work of our hearts and minds. #measurepr
Naturally, I asked for more details:
A2. @kfyda There are two measures … the first is anecdotal. We collect stories of delight from people who use our work. #measurepr
A2. @kfryda The second we build into many of our business agreements. We trade cash for royalty. #measurepr
@shonali you can find lurkers through web analytics and community platform metrics, but also simply by asking once in a while! #measurepr
On what they've learned about measuring communities:
A9 my big lesson is that there's a lot of irrelevant stuff you can measure – but we need to focus on what's important–like joy #measurepr
A9. Although, as leaders, we have to not embed "fear" in the measurement process. #measurepr
Time flew by and, before we knew it, the chat was over. If you missed it or want to revisit the conversation, check out the #measurePR transcript for May 12.
June #measurePR Twitter chat announcement
Next month's #measurePR chat will take place on Tuesday, June 9, 12-1 pm ET, with not one, not two, not three, but four – yes, FOUR! – brilliant guests, with whom we'll be discussing how to effectively measure content.
Jennifer Nycz-Conner (@washbizjen) of the Washington Business Journal, Shelly Kramer (@shellykramer) of V3B, Daniel Cohen (@mrdancohen) of RedShift Writers (and of WUL!), and Fay Shapiro (@fayscommpro) ofcommPRO.biz, are all descending on #measurePR, and will discuss the ins and outs of content with us. They'll discuss how to create smart content that works, best practices in content measurement, and how to use those metrics in improving your content strategy. This is going to be a stellar chat, so please save the date (RSVP to the event, it will help!); once again, it's Tuesday, June 9, 12-1 pm ET.