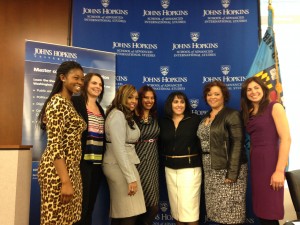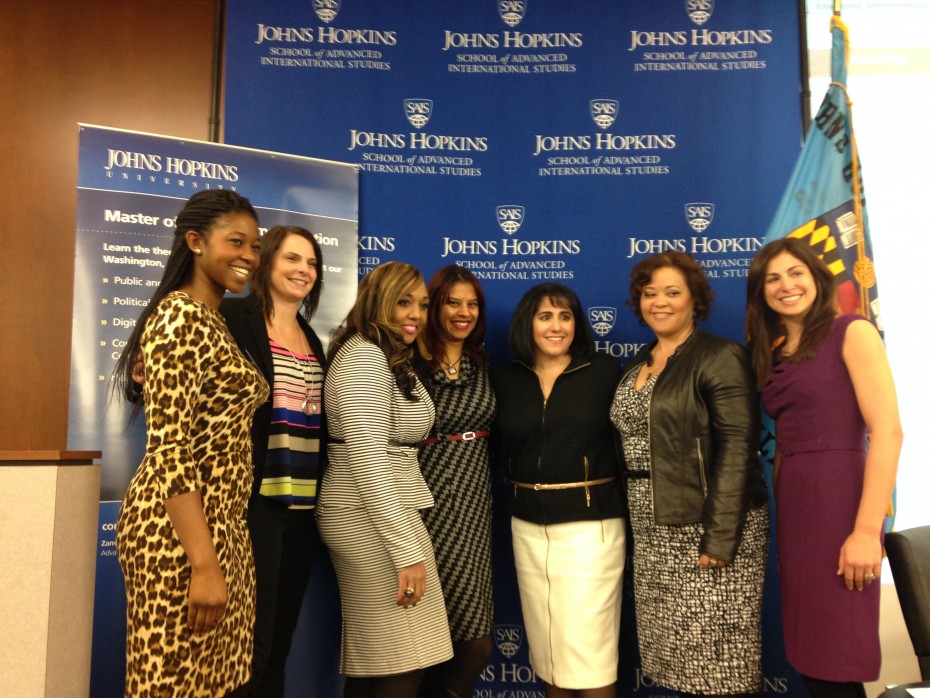 Big day tomorrow: International Women's Day. So of course, this post is by women, about women, and for women everywhere. Ladies, take it away (just like we did at this ColorComm/Johns Hopkins event last year – see photo).
1. Closing The Gender Gap Is Everyone's Business
Why: "Own your value and insist on being paid for it," writes Margie Warrell in this post (still a great read).
2. Six marketing lessons for International Women's Day
Why: "No marketer wants to be vanilla, yet co-opting the ideals of feminism to promote your business without due diligence and authenticity is not only disingenuous, but extremely damaging to a brand's reputation," says Nicola Kemp as she takes a look at ways to avoid "pinkwashing."
3. International Women's Day History
Why: This great refresher from UN Women Watch reminds us how IWD came to be and how it continues to evolve from year to year.
4. Quotas. The key to gender equality?
Why: "Making workforces more diverse not only fosters innovation, but also helps to drive up quality within that workforce, increasing the pool of talent available and offering a plurality of skills, experiences and insights to meet changing needs," writes Uschi Schreiber on LinkedIn (though  I'm not sure what's going on with all the hashtags).
5. Case Study: Blogger Outreach for Oxfam America's 2012 IWD Campaign
Why: I went back to the WUL vault for this one, because it was a really good campaign (and we worked really hard!).
6. International Women's Day: 6 Creative Marketing Ideas To Celebrate
Why: "It's the perfect way to show appreciation for female employees and customers," writes Susan Smith as she shares some ideas to help you launch a memorable IWD campaign.
7. The best PR campaigns for International Women's Day 2015
Why: PRWeek took a look at some of the best IWD 2015 campaigns; even if it's too late for 2016 (for inspiration), there's always next year!
How will you celebrate International Women's Day? What has been your favorite IWD campaign over the years? Please share in the comments below.