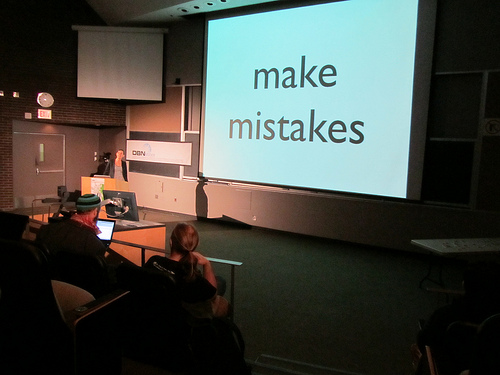 It's Monday and you know what that means, time for a roundup!
Mistakes. Everyone makes them, but smart people learn from them. This week's roundup focuses on business mistakes made, and issues you may or may not have faced. Either way, these seven posts teach some important business lessons… because we're all about learning from our mistakes!
Image: Mike Gifford via Flickr, CC 2.0
1. Seven distractions to avoid to improve your productivity
Why: In this post for LeadersWest, Audrey Thomas outlines several common productivity mistakes and how to correct them.
2. 5 Biggest Issues Faced by First Time Entrepreneurs When Starting a Business
Why: Alex Genadinik speaks from his personal experience on the most common issues faced by entrepreneurs and offers solutions.
3. Does Your Home Page Pass The Simplicity Test?
Why: Is your business homepage costing you potential clients? Rich McElaney explains how a little can go a long way when it comes to webpage design.
4. 15 Reasons Your PR Pitches Suck [Redux]
Why: One of the most popular post ever to run on WUL offers 15 ways that PR professionals can improve their pitches and stand out in their field.
5. Five Fat Phrases Clogging Up Your Content
Why: Jennifer Kane focuses on making your content count by ridding it of unnecessary fillers.
6. Agency Outreach Gone Wrong: And How to Avoid It
Why: Although Shelly Kramer focuses on PR agencies in this post, the points she makes are useful for anyone reaching out digitally to potential clients.
7. When Send Isn't Your Friend: 5 Awkward Reply-all Blunders
Why: A collection of funny yet cautionary tales by Ritika Trikha via YouTern remind us why we should always double check before hitting "send."
Now it's your turn. Is there a business lesson that you've learned the hard way? If so, don't be shy, share with us in the comments below.