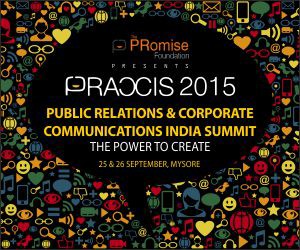 I'm leaving… on a jet plane…
… Do know when I'll be back again…
I head to India tomorrow for more or less a month abroad (India + UK, all work!). I'm excited – this is my first time keynoting at #PRAXIS2015, as well as teaching multiple workshops around India and the UK.
I also wonder where the scheduling gods were when we started working on this trip, because on the first leg of my trip, I will be in 7 cities in 9 days. That's just crazy!
So while I'm already a bit exhausted thinking about it, I'm also really, really excited. And as a tribute to PRAXIS, today's roundup highlights some of the experts speaking at this year's conference. The posts are not all about PR, for a change, but give you a window into the lives of some remarkably smart people whom you might not otherwise get to know.
1. Go Solo. Ekla Cholo Re if need be :-)
Why: 'Ekla Chalo Re' [which translates to walk alone if you need to] is not just a patriotic call, the message really is, 'If no one responds to your call, then go your own way alone.' It's true for life, and true for travel," writes Ansoo Gupta as she shares her "favorite tips for new and seasoned travelers alike that can make your solo journey a tad more comfortable and less anxiety-ridden."
2. Styling a City Smart and Happy
Why: "A smart city is designed to be livable and resilient with technology serving as the principal factor of its infrastructure. It aims at integration of the city's interconnected systems," says Harjiv Singh as he takes a look at what exactly makes a city "smart."
3. ON BOARD – How To Use Board Games to Build Corporate Skills
Why: "… most interesting was … people who barely spoke, or who seemed quiet and aloof, really came alive," writes Aparna Jain as she introduces us to her collection of games that help "teams bond, feel challenged, get to know one another better, build healthier relationships with each other and have fun doing it."
4. Cannes PR Lions 2015: Looking Back on New PR's Bright Future
Why: "New PR is demonstrating its full, channel-agnostic forte for driving conversation and conversion… rising fast in a world that rewards real-time creativity, transparency and authenticity more than ever before," says Lynne Anne Davis as she reviews PR's "breakthrough year at Cannes."
5. Seven Frequently Asked Questions on Social PR Strategy
Why: "Even if you are not directly charged with managing your organization's social media properties, there is always a way social can support, supplement or complement your job. You just have to find it." I cover the most frequently asked questions in my social PR strategy workshops in this WUL goodie.
6. Luxury & CSR in Asia: reconciling apparent contradiction
Why: "It is a challenge for luxury brands to find the right CSR strategy; often a campaign is short-term and an add-on to an existing platform and not clearly defined. From Jean-Michel Dumont.
7. Is Your Content Marketing Strategy Painful for Prospects?
Why: "Do the editors of the Economist sit down each Monday and discuss what content they are going to churn out that week? No, they don't. They think critically about what's going on in the world, how it impacts their readership and how to present it in a way that readers will find compelling. That's why it gets read," writes Paul Mottram as he explains how to turn "content pollution into content marketing effectiveness." (I love this post.)
If you'll be at PRAXIS this year, please look for me – I would love to say hello IRL! And for everyone staying "home," I'm depending on you to mind the farm for me, y'hear?