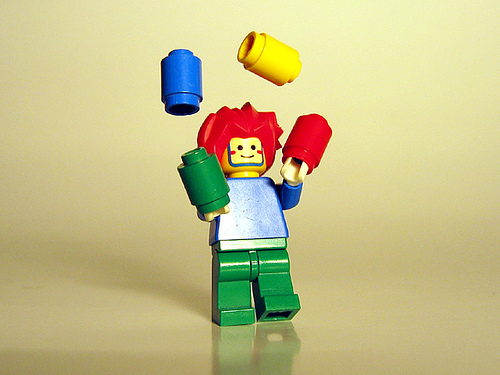 I always feel a great paradox at the beginning of the year.
On one hand, the year is ending. We get the distinct feeling of being out of town. Things lull into a sleepy haze with the onset of the holidays. People declare to quit smoking or overeating, then go out for fine dining and drunken midnight bar hopping.
Things will have to change, but give off the appearance of staying inevitably the same.
On the other hand, it's a time for growth. Rebirth. Rejuvenation. A new year gives us the chance to reinvent who we are, what we do, and who we do it for by reassessing our lives.
It's a time to look back on our tasks and accomplishments over the last year and discuss some of the things we have done well, some of the things we could have done better and some of our upcoming plans.
It's a time to decide whether we want to pursue goals or themes.
And it's a time to decide how we want to go about pursuing what we want.
—
2012 was an incredible year for me.
In February, I landed a job as the Head Writer at The Greensheet.
By April, I was working all day and managing contracts with clients by night. I found myself covered with social media calendars, PR pitches, blog posts, website projects, advertisement assignments, and what felt like a million clients to call.
I loved it. The thrill of hunting new business, executing existing projects and partnering with others in my field gave me the will to go out and make things happen. I took assignments I liked and took control of the deals.
It was beautiful.
By October, I knew that it was time to open my own business. I filed for an LLC and began educating my clients on my new endeavor in an effort to shift gears on their behalf.
My last day as a full-time employee was December 10th… and I threw myself into the project that night, developing a site plan, elevator pitch and other key necessities I hadn't had time to create while I was servicing my clients.
It took a few days, but by the end of it, I had an angle and business I was happy with.
That's how Redshift Writers was born.
—
RedShift Writers (started by yours truly) is a high-powered, lightning fast content writing company customized to the digital/social media era. We are dedicated to providing high quality copywriting/content writing for both humans and search engines. We want our stuff to be SEO friendly without looking like it was written by a robot. RedShift provides services as they are related to dead-on business content that rings the cash register.
We live to write and write to brand.
Our client portfolio has grown tremendously (variety of clients; a little of this, little of that). And we work with some pretty awesome partners, too.
Today, I've been open for six weeks. People told me December would be a cold period. They were wrong. With my newfound time, I landed a few extra projects, stepped on the gas and punched out more work than ever before. I crushed expectations.
People told me January would be cold, too. They were right about that… sort of. After December, anything seems cold. And Dec. 24 – Jan. 3 was less active due to the holidays. But I also have invested in some tools that will greatly assist me for the future during this month, including internal processes and pretty doggone good products.
Knowledge is money
One of the things I take as ultimately valuable is the knowledge I have picked up. Knowledge is the new controlling factor in the economy. As a content marketer, the knowledge I bring to the table is what my clients want from me.
They want to know effective means for communicating their vision.
They want to know how to find their customers with their language.
They want to sell products.
And I know how to do it for them.
But what I still struggle with (and I'm not sure I will ever be free of) is how to balance several of the key considerations you have to strike as a business owner and entrepreneur. As I work, I learn. In turn I do my best. But there's always more to learn and there's always more to balance.
One thing that has helped is to stand on the shoulders of giants. I have had phone calls or meetings with several people I really respect and still have more scheduled. They have been invaluable to me.
Just as valuable has been the experience of knowing how Google-search something (I'm serious; there's a lot more to search than you think, if that sounded funny to you), meeting the right people and experimenting. I know a lot of small business owners with great ideas, and they have been nothing but supportive.
In that same spirit, I want to provide others whatever help I can to do the same.
In spite of my short time as a business owner, I've learned a lot.
Now it's time to share.
(Tune in for Part 2).