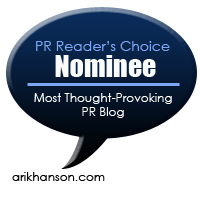 The one thing I never expected when I started this blog was for it to be nominated in an awards program. Blogging, in and of itself, is an adventure for me, and while I'm thrilled with the warm reception "Waxing UnLyrical" has received, I'm also humbled by it. After all, I don't blog as regularly as all the gurus tell you you should; so the very fact that anyone reads this blog is quite a thrill.
One of the great advantages about being active on Twitter is the excellent PR and communications practitioners I've met through it. More than that, it exposes me to excellent blogs and posts and is truly a great learning experience.
One of the said practitioners is Arik Hanson, APR; so I'm really flattered that this teeny tiny blog has been nominated in the "most thought-provoking" category (there are four) in the PR Readers' Choice Blog Awards. Several of the blogs I read on a daily basis, and whose authors I admire greatly, made the grade as well, such as Danny Brown, Shannon Paul, Bill Sledzik and Ryan Stephens. If birds of a feather flock together, I'm in great company.
So to whoever nominated me, thank you. While I personally think hell will freeze over before I win, I'd be tickled if you'd scoot over and vote for me. And if you'd rather vote for someone else – that's fine too. Just vote!