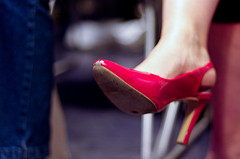 I should probably have done this earlier. Don't they say something about better late than never?
Right, then. I have a hectic couple of weeks coming up with no less than four conferences in two weeks (probably baby food for some, but for me, that's a lot). If you're going to be at any, I'd love to say hello in person.
June 3 is PRNews' PR Measurement Conference at DC's National Press Club, which I'm really looking forward to because it's on… you guessed it, measurement. I've been to several great conferences but the measurement ones are always my favorite.
If you were thinking of coming, please let me know so that I can get you the speakers' guests discount code. If you can't make it, PRNews is on Twitter and will be giving out a hashtag soon.
June 4 is Vocus' 2009 Users Conference, where I'm participating on a panel on Twitter.
Er, did I just see you rolling your eyes?
Seriously, I love this conference. This'll be my third year as a speaker, and I can't wait, especially since I don't have to prepare any slides. I'm told the hashtag is #vocus, so if you can't make it, follow along.
June 9 I'll take a long-overdue Acela Express trip up to the Big Apple to speak at T3PR on – you guessed it, measurement. This one's a first for me, but several Twitter and IRL pals will be there, so I'm excited about it. Plus, I haven't been in New York in ages.
And then June 12 I'll be attending – not speaking at – BlogPotomac. Phew. I'm really looking forward to meeting, and re-connecting with, several Twitter friends.
So if you'll be anywhere in my vicinity, do let me know. I'd love to meet you.