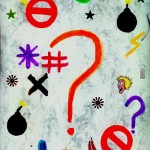 I have to start with the caveat that this title is not original. I recently had the opportunity to participate in an amazing Tweetchat (PRStudChat) for public relations students, professionals, and professors with this exact name.
For one hour, dozens of folks from around the world weighed in with their thoughts and perceptions. And, as usual, I learned a heck of a lot more than I contributed!
Edward L. Bernays, arguably the "father of Public Relations" and someone I am known to cite a lot, saw the profession as very much a science, reflecting his own upbringing in the company of his "household name" uncle, Sigmund Freud.
In a Fall 1976 article for Public Relations Quarterly, Mr. Bernays stated:
"Advice on action is the important function of the professional, based on knowledge of the social sciences, individual and group behavior, on social responsibility and on experiences in coping with these problems in a professional way."
And I tend to agree…to a point.
There is a science to what we as public relations professionals do on behalf of clients or employers.
We carefully analyze, using sophisticated research techniques, the environment in which our activities must take place. And we measure, using carefully honed metrics, the outcomes of our efforts.
But I part ways with Mr. Bernays when I talk about the ways in which we develop our programs and craft our messages.
In my mind, at least, there is an art to that aspect of our profession… the careful orchestrating of events, the timing of messaging, the careful melding of medium and message to ensure maximum impact… that absolutely drips creative thinking… sheer artistry!
Ivy Lee, another important figure in the early years, applied the "art" to his work by "humanizing" his clients, placing them in situations that emphasized their "real life" aspects.
If you look at the current definition of "public relations" as espoused by the Public Relations Society of America, there are some key concepts that encompass both sides of the discussion.
"Strategic communication function"… careful, calculated planning utilizing extensive research (science)
"Build mutually beneficial relationships"… orchestrating agreements of understanding, both tacit and expressed (art)
When you cut to the chase, public relations is about the careful merging of both.
It's about creating expectations of concerned publics (a spouse, perhaps?), calling on previous experiences in the formulation of plans of action (an anniversary celebration?), creating an appropriate message (roses?), and carrying out the planned action (romantic dinner for two?).
Building and maintaining relationships is key, and both the artistic and the scientific aspects play equally important parts.
As Arthur W. Page, yet another icon in the public relations profession, said in a speech given to the Institute of Life Insurance in December 1942:
"If a business has a large measure of public approval and the public has a large measure of confidence in it – confidence meaning that it is conducted in the public interest it will give the business considerable freedom."
Couldn't say it better myself!
Image: Joel Ormsby via Flickr CC 2.0