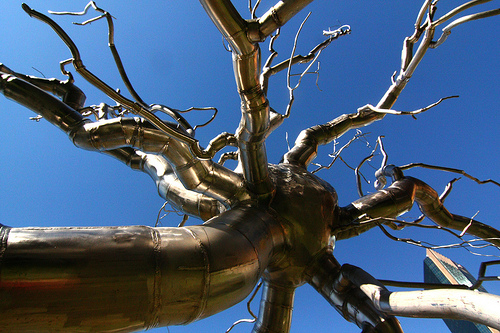 Do you know what "neuroplasticity" is?
It's essentially the brain's ability to "rewire" itself by forming new neural connections when it needs to. Or, in other words, it's what happens when the neurons (nerve cells) in the brain start to find new ways to connect with and "talk to" each other, when the old pathways are no longer there (for example, because of injury, or disease).
Rewired PR
Marketwired (disclosure: former client) recently asked me to contribute a couple of pieces to their blog, under the umbrella concept of "PR Rewired." So as I started to think about how and why PR might be "rewired" in the digital age, I started looking up exactly what rewiring entails … and stumbled upon neuroplasticity.
The concept of neuroplasticity is relatively new; up until the late 20th century it was believed that after about early childhood, the structure of the brain didn't change. That, basically, we were stuck with what we had as kids. Whew. I'm glad that line of thinking has changed!

On the PR front, of course there is so much that has been "rewired." The good old press release for example; it's still around, but now we have social media releases. The newsroom? Still around, but nowadays, more often than not, those newsrooms are hosted on our own sites, perhaps even as blogs. And as for media relations, it's still alive and kicking, but the definition of "media" has changed tremendously. Heck, even I'm considered media these days by some!
To rewire or not to rewire
I think what's really important, though, when it comes to rewiring our discipline, is to not overdo it. We should absolutely adopt new techniques and technologies; technology is why we can do our jobs the way we do… but there are some tried and tested foundational elements that can be embarked upon in new ways, but that should not be eliminated altogether.
And one of the most important, in my opinion, is research. As I said in my post,
With the advent of social media and digital platforms, I've seen far too many practitioners""and, frankly, companies too, some of them quite large ones""get extremely excited over the SNTs (shiny new toys). So much so, that they start to dream up public relations programs using X platform, or Y tool… forgetting that a good program needs to be grounded in research. That is the only way we can build solid programs that can grow.

One of the great advantages of living and working in the digital age is that now it is so much easier to conduct research, thanks to a plethora of digital tools. Now, I'm absolutely not saying traditional research methodologies should be thrown out, like the proverbial baby with the bathwater. But we have more ways to conduct research than ever before. Many of them are free, or low-cost… so why not take advantage of them? However, once again, how we use digital tools and channels for research should be determined by what exactly we are researching for.
If you have a moment, I'd love for you to read the entire post. And don't forget to let me know what you think!
Image: Christopher Neugebauer via Flickr, CC 2.0