Guest post by Jenelle Conner
Editor's update, 8:08 pm ET, May 1, 2013: The following post was edited on May 1, 2013, to redact the names of the websites and related Facebook Pages involved. Since the identities of the particular parties involved in the incident described below are less important than the issues raised, we decided not to subject them to further scrutiny.
We have made minor edits to the post as indicated below that do not change its integrity, including blurring the faces of the kids involved. We have redacted the Page name(s) from any comments mentioning them, and will continue to monitor comments to do so.
Note that the information relayed below is based on "Susan's" conversations with the Facebook Page(s) involved, via Facebook's messaging feature, and shared with her continued approval. All images have been used with "Susan's" permission. In her words, "…I appreciate the fact that you all are doing this to get it out there to show people how easily photo[s] can be taken without your permission." ~SB
I am a social media advocate. It's where I work. I love the collaborative energy, thoughts and community.
But I hate the ugly side of social media sharing; especially when kids are involved.
On April 7 my Facebook friend Susan (name changed) uploaded this photo (image used with permission from "Susan"):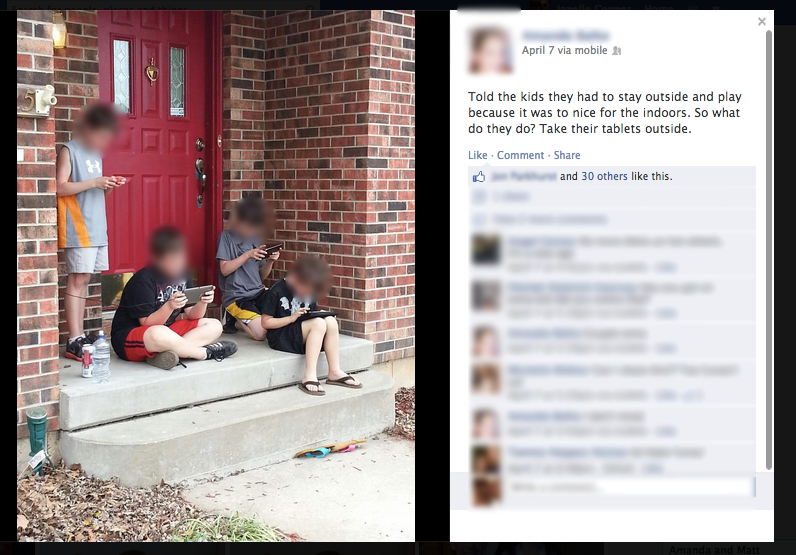 By April 21, it had been [updated] turned into this photo meme: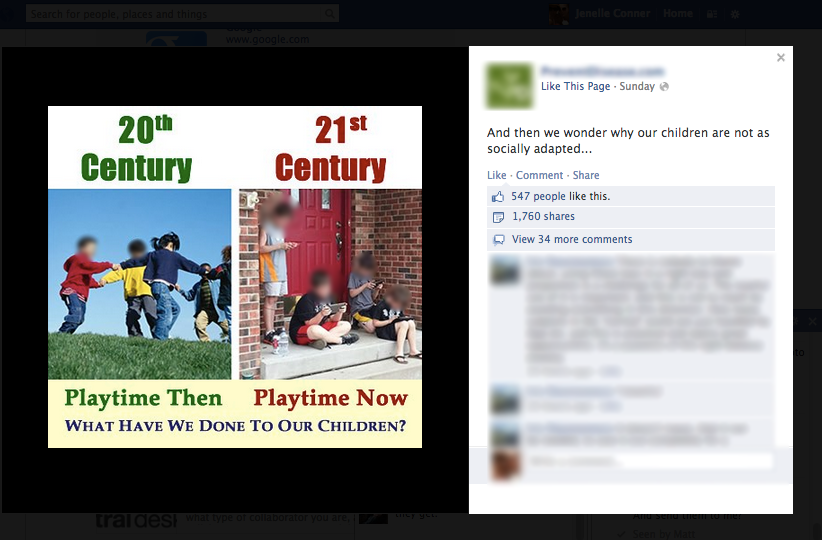 What was posted as a "friends only" image was altered into a very public meme, where her kids and the neighbor's kids (all under 13 years old and under; updated) became branded as "What is wrong with today's kids?"
So, how did it all happen?
The image went viral.
After two days of searching, we believe the process went something like this:
1) Susan's Facebook friend saw the image on Susan's Facebook page and commented, "Can I share this?? Too funny!!!"
2) Susan replied, "I don't mind." Susan's friend then shared it to her personal Facebook page with the privacy setting "friends only."
3) Without asking or anyone else knowing, Susan's friend's boyfriend saw the picture, thought it was funny, uploaded it to Imgur, and posted it to Reddit. No harm intended.
4) Before it was removed last Wednesday Tuesday, April 24 [updated], the image on Imgur received 966,589 views in a 2-week period.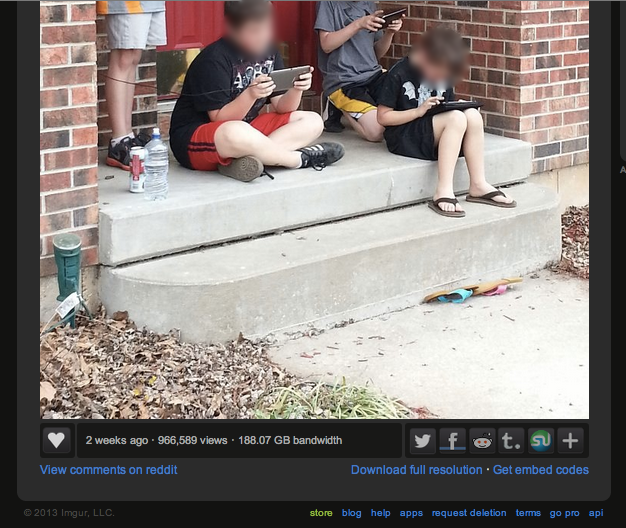 The crazy part? Susan didn't even know the image had gone viral until she saw another Facebook friend shared the meme on April 22. Susan then responded,
"That's a picture of my kids and neighbors. Not sure how they got it. This was the 1st day that my kids [met] the new neighbors. They had been outside playing with them all day and they decided they wanted to play a multiplayer game and went inside to get their tablets. I said nope it's to [sic] nice outside get back out there and enjoy it. So I went back to my yard work and found them on the porch."
After she saw the meme, Susan started reporting the image and private messaging pages on Facebook with a request that they take down the image and/or meme. She explained that the kids were minors and the photo was used without her knowledge.
Both sites the Facebook Pages she contacted [updated for clarity, 11:18 pm ET, May 1] have since removed the offending photo; though not without objecting rather profusely. But before they did, between these two pages the meme was shared more than 4,000 times, and had received more than 2,300 likes.
All of that doesn't make me as frustrated as one of the the messages Susan received when she asked them to remove the image.
Here are some screen captures from the conversation with [name redacted] (this conversation was before we traced the original image back to Reddit/Imgur).
First, they sent her a pre-formatted response about how to untag herself from the photo.
Upon realizing that wasn't what she was asking, they responded:
"Sorry [Susan], that's a copy/paste we reply daily for that automated Facebook query that was sent. We actually received this picture twice via email and thought we would post it to our facebook page. We've seen it before on the internet in different languages. How old is it and when was it posted? It's definitely circulating."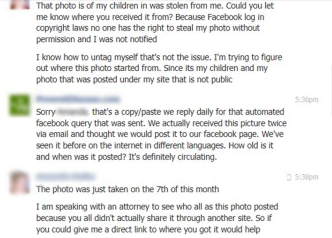 Susan replied:
"The photo was just taken on the 7th of this month. I am speaking with an attorney to see who all [h]as this photo posted because you all didn't actually share it through another site. So if you could give me a direct link to where you got it would help."
Then, [name redacted] said this:
"That is shocking that it's less than 30 days old. That means they are circulating via email and internet blogs at lightening [sic] speed. Is your profile public? There is no way any attorney will be able to give you any recourse. This is one of the problems with Facebook. I'll try and locate the different websites I've seen them on. I'll get back to you asap."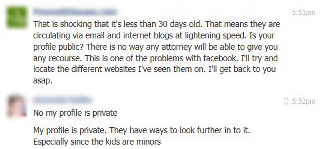 Then, they acted like they were going to help:
"We received it from a reader with the picture inserted in the email. There was no link. It was forwarded to them as well. I can request where they received it if you like but I don't think that will go anywhere. The trails sometimes go on hundreds if not thousands of emails back. I can't find the other website I've seen it on but I believe it was a Slavic language, however the picture was different but same concept. Sorry about this [Susan]. I'm sure you're a great Mom!"

Finally, after a few back-and-forth comments, Susan came back to her original request that they remove the image (without getting a lawyer involved):
"Well you I ask you kindly to remove it so we [h]ave one less [page] to get involved with. I am trying to go about asking people to remove it and the one[s] that [don't] are the ones that will be contacted further."
[Name redacted] responded:
"We can appreciate the request [Susan], and you may proceed as you wish, but we will not be removing the image. Unfortunately, the photo has been dramatically and digitally altered, distributed, and now widely available on the public domain. Due to the nature of its presentation and direction, fair use for educational purposes also applies. If we wanted to, we could also post this image on our website as could any website without any recourse. This is the nature of digital media. Sorry."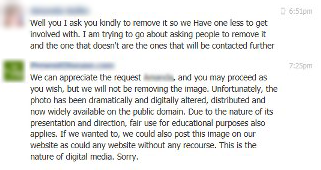 I am not a lawyer, but I feel the claims made in this final response by [name redacted] were grossly inaccurate and an attempt to scare Susan from trying to pursue additional action. And, frankly, I am disappointed in the site.
Social media by definition is a space where people share ideas and information.
In my opinion, this is what makes social media so beautiful. But what happens when "sharing" infringes on the privacy rights of others? Don't we as social media professionals, especially a Page with more than 34,000 likes, have an obligation to make sure that we are utilizing images from a reputable source?
And, upon receiving information that a photo was used incorrectly, don't we have an obligation to research and remove the photo if someone was indeed valid in their request?
When I asked Susan what she thought would happen when she originally told her friend she could share the image she said, "I figured some of her friends would see it, and that would be the end of it. Had I known it would get in the wrong hands, I would not have agreed to let anyone share it. I can just hope that my oldest won't be reading any post anywhere of people calling him fat."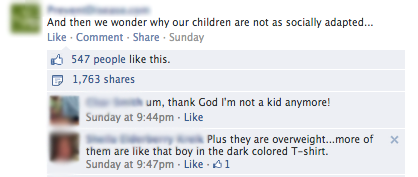 While this image has been removed from Imgur and Reddit, it still remains widely available online. We've seen it translated and posted in different languages and, now that it's out there, it's never coming back. I know I'll be thinking twice before I hit the "share" button in the future.
Our KimberMedia team weighed-in on this topic the other night. Click here to see our 10 minute KimberMedia WarRoom Google+ Hangout discussion.
Disclaimer: The assertions and opinions contained in this blog post are solely those of the author. Waxing UnLyrical and its staff and agents have not verified the truth of any statement contained therein and do not vouch for their authenticity.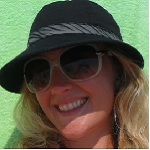 Jenelle Conner works as a social media account manager for KimberMedia. She just launched her own marketing business in the sunny Florida panhandle (website coming soon), and she's on track to have her Yoga teaching certification in 2014. Multitasking, organization, and the small details make Jenelle's world go round.