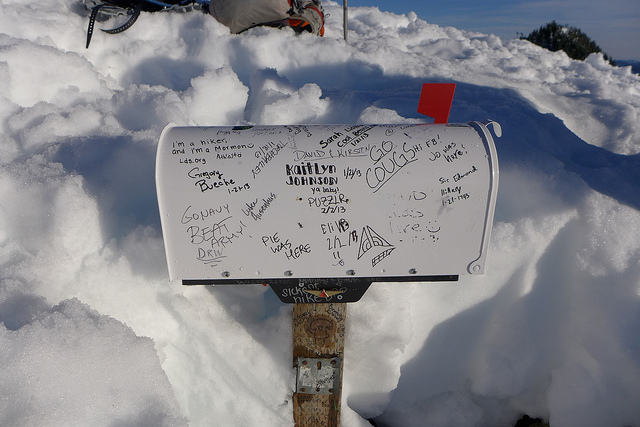 Earlier today I saw a terrific post over at Lisa Gerber's blog by Alan Lemire, on his entrepreneurial journey thus far. Just as I enjoyed Dan Cohen (part of the WUL team) sharing his experiences thus far, because there's so much we can learn from each other. And as I continue on my own entrepreneurial path, I am starting to see and meet so very many people who are either doing the same, or yearning to do so.
So an honest post like Alan's, or those that Dan authored are, I think, supremely invigorating, thought-provoking and valuable.
Seeing as how Alan came with a super recommendation from Lisa (one of my good friends, and whose opinion I value and respect), I clicked through his website. It's beautiful.
And then I saw that his contact information contained what I assume is his personal email address.
This is not the first time I've seen this, of course. I have clients right now who use their personal email addresses for work, and have seen quite a few other iterations of a business name incorporated into a popular email provider, e.g. "MyBusiness" [a] yahoo [dot] com.
And I've always wondered: why? Why not just set up your branded business email address, especially if you already own your domain? If you're going to showcase your business professionally, then shouldn't you have an email address to go with that? Wouldn't this be one of the basic marketing mistakes to avoid?
So I posed the question on Twitter and Facebook to see what others think. Here are some of the answers (and many thanks to all who replied):
Daniel Honigman thought it was fine:
@shonali If you have a built-in client base.Lots of high-end consultants do&, esp. if they're @ the end of their careers, don't want new biz

"" Daniel Honigman (@DanielHonigman) March 22, 2013
Deb Lee, on the other hand, didn't, unless you're just getting started and don't have your own domain yet:
I would stay away from a generic e-mail address. A company branded address seems more professional. @shonali "" Deb Lee (@SohoTechTraing) March 22, 2013
There were others who agreed with Deb:
@shonali No. I think it's the first sign of someone being careless, cheap, or not taking biz seriously.

"" Julia Angelen Zunich (@JulesZunichPR) March 22, 2013
@shonali I do, however one CEO said I wasn't a "real company" b/c of it. I have a biz email, but if I connect via Linkedin I use my gmail.

"" Jordan Parker (@JordanAleah) March 22, 2013
And over on Facebook, there were a variety of opinions:

 Both Joe Hackman and the afore-mentioned Dan Cohen had interesting responses:


 D.C. Hughes and Amy Vernon had some interesting points (made energetically):

The discussion on Facebook became quite animated, actually, and many thanks to Jason Konopinski, DC Hughes, Joe Hackman, Dan, Doug Wendt, Jeff Crites, Amy Vernon, and Tinu Abayomi-Paul (to name just a few) for sharing their thoughts on Facebook. And for – perhaps – changing my mind.
Before and after
You see, when I posed the question earlier in the day, I was pretty convinced of my position: if you're running a business, why use a personal, or Gmail (or other email provider) email address? I've written before about "dressing up your business," with things like a decent website, etc… and wouldn't an email address be an extension, or part, of that?
Now I'm not so sure. Because I have seen many, excellent practitioners who use AOL or Comcast email addresses, for example. Their LinkedIn profiles aren't sexy. Some of them don't even have websites.
Yet, they have done such great work, that they have built a steady client base, and their work begets them more work (as Heather Whaling said on #PRStudChat the other night, "referrals = gold!").
Sure, some people may think of them as not "with it," or not taking their business seriously. But the people I know like this… not only do they take their businesses very seriously, they have been running them for years and years, so they must be doing something right… right?
A matter of perception
I suppose, at the end of the day, it's all a matter of perception. For my part, I like having an email address associated with my domain. I run everything through Google, but I prefer keeping business communications to [a] shonaliburke [dot] com emails, keeping my Hopkins-related communications to my Hopkins email address, and so on.
I do find that folks for whom LinkedIn might have been the primary online connection tend to send emails to my personal address… and I'm fine with that, since my LinkedIn profile is, after all, my personal profile. Right now, my company is primarily represented by me, so the dividing line is a bit fuzzy… but that is something that will need to be figured out as the company grows.
However, when people work with me under the Shonali Burke Consulting, Inc., umbrella, they get, and use, email addresses associated with the domain. I feel more comfortable with that, and so far, at least, no one's objected (I also don't throw a hissy fit if they forget to use the "official" email address once in a while).
So while I do think how you present your business is important – and your email address is part of that – I wouldn't automatically dismiss anyone who used a personal email address for it. At least, not any more.
Now it's your turn. What do you think? Do you have a opinion, perhaps a strong one, one way or another? Do share!
Image: cascade hiker via Flickr, CC 2.0