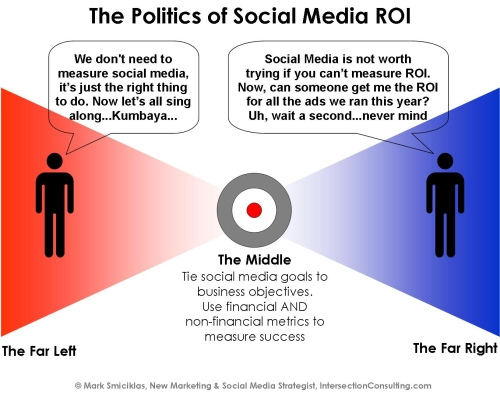 What exactly is ROI?
What is social media ROI?
Image: Mark Smiciklas via Flickr, CC 2.0
Is ROI or "impact" more important? Or are they equally important?
Should companies starting out in social media be concerned about ROI?
These were the questions we discussed on yesterday's #measurePR chat with Don Bartholomew, aka @donbart.
It was terrific.
As Sean Williams said,
Don is a refreshing blend of theory and practicality when it comes to demystifying what seems to remain one of the most puzzling questions in the social media and measurement worlds.
At least, Sean said something to that effect, but I can't find his exact tweet, so let's assume I'm not misquoting him… too much.
Here are some of the tweets from yesterday's session: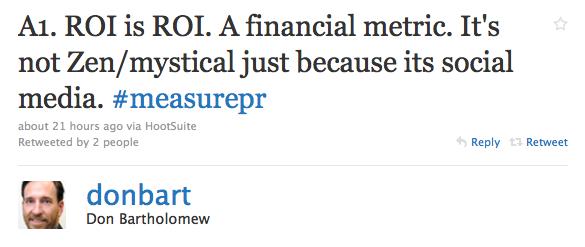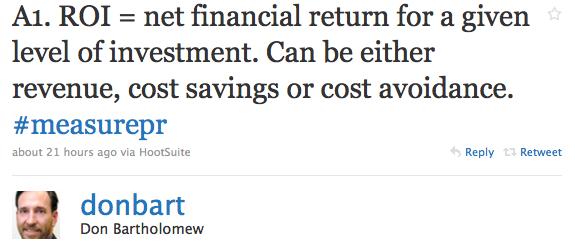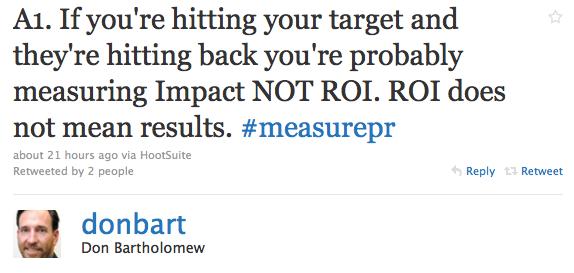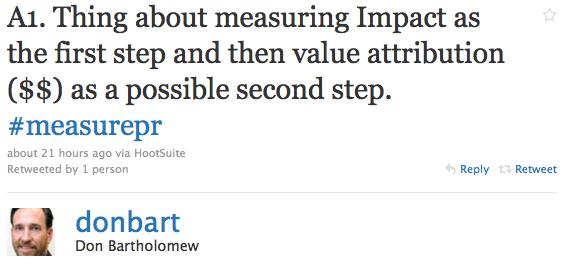 That's meant to be "think," by the way.

The key point that Don, Sean, and a few others were trying to drive home is that ROI is ROI is ROI.
It is not "value," and it is not "impact."
Update at 11:42 am: Don just corrected me, saying, "… one could argue ROI is a form of Impact, but Impact is not ROI."
He's right, and that's what I meant, and should have said.
Back to your regular programming.
When we start trying to redefine "ROI," we are opening a can of worms. Because the C-suite understands ROI as something very specific.
If we're then going to try to change that definition, it can't end well.
Focusing on Impact, on the other hand, makes a lot of sense, because here you're starting out with measurable objectives (tired of that phrase yet?!).
Once you do that, you're going to track your program(s) to see if they result in those measurable objectives… which should be created with some kind of impact on the business/organization in mind.
Do have a read through the transcript of the #measurePR chat with Don; there are some real nuggets in there.
The conversation was so interesting, that Don agreed to come back for Round 2 of the SM ROI discussion.
So save the date: Sept. 14, 12-1 pm ET.
If it makes life easier for you, you can RSVP for #measurePR with Don, Round 2, on Facebook.
It would be great to get some questions from you, so that we don't have to repeat everything we discussed yesterday.
Will you send them along, either by leaving a comment below, or by shooting me an email or DM?
Don and I hope to see you there!