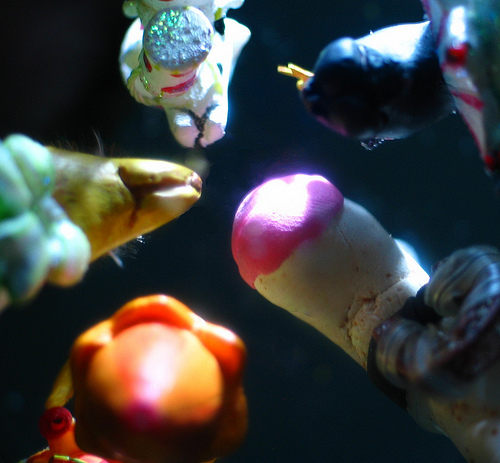 Huddle, huddle, roil and muddle
I remember the first Twitter chat I attended. It was #journchat, one of the first, if not the first, Twitter chats created.
Image: Maria Johnson via Flickr, CC 2.0
It drove me nuts.
The stream moved so quickly, it was really hard to keep up with what was going on. And if there's one thing I pride myself on, it's being able to keep up with several things at once or, as the jargonites would put it, "multi-task."
And if I'm being honest, some of the tweets people shared seemed so puerile, I said to myself, "Do they really work in public relations?"
Hey I can pull a Simon Cowell with the best of 'em, though I try – for the most part – not to. And I suspect you can too.

As I started participating in more chats such as #pr20chat, #soloPR and then starting my own (#measurePR), I've come to learn a few things about how to make the most of a Twitter chat.
And that puerile is as puerile does.
So, especially if you are new to Twitter chats, I hope this will be helpful.
No barriers to participation
The beauty of Twitter is its democratic nature. Press conferences are held for the media. Professional development conferences are held for professionals in their fields.
But a Twitter chat? It's there. It's open. Anyone can participate if they jump on to the hashtag, regardless of whether they specialize in that particular field or not.
As a result, you have the potential for all sorts of comments – from seasoned professionals in the field, to curious onlookers or folks who dabble in the biz.
So no, all tweets will not be equal.
But I think that's a great thing, since it gives us an opportunity to hear from many different voices… some of whom might become clients, if you're nice to them.
What you can do: be willing to share (or re-share) information that might help explain the topic at hand to them, and point them to additional resources if they are interested in learning more.
I do this by keeping links to the introductory #measurePR post, as well as to the MeasurePR category on my blog handy. Then, when someone asks, "What is #measurePR?" I can give them a much better answer than I would be able to in 140 characters and the moment.
Resource bingo
Alex Talbott put it best: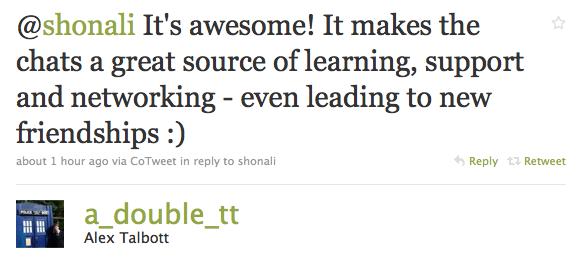 Echoing Alex's thought, Jodi Gersh said on Facebook:

And John Friedman:

This is one of the best things about Twitter chats.
When you go back and look at the transcripts, you'll find people share a wealth of resources… blog posts, websites, and most of all, their own thoughts, often artfully captured in a perfect sound bite.
Most of the Twitter chats I'm aware of take place for an hour or so. But the great thing about them is that that hour is jam-packed with so much additional information, you could pretty much download all the additional resources shared during the chat and make it your own little handbook.
What you should expect: that the chat moderator(s) will provide a recap of the chat. All that I know do.
If they don't, go to the WTHashtag page for the chat, like this #measurePR WTHashtag page, and pull a transcript for the chat. Save it as a .PDF file, and you're good to go.
Bonus tip: sometimes WTHashtag acts funky and doesn't catch all the tweets, especially if you let a couple of days go by before pulling the transcript. So try to do it as soon as the chat ends.
[Update: WTHashtag unfortunately "died." So now I use RowFeeder to capture a transcript.]
The other thing you can do is to go to Twitter Search, plug in the hashtag, and save all the tweets that were generated during the time of the chat.
This is a PITA, and I'm not talking bread, but it gives you a record of what was said.
Props to Kellye Crane for reminding me of this during the most recent #measurePR with Don Bartholomew.
The other thing that's smart to do is, when the transcript is generated, look for any URLs that have been shared during the chat. If they're resources you will find useful, bookmark them (I use Delicious or Evernote) for future reference.
Rules of engagement
This is an easy one.
What you should expect: anything and everything.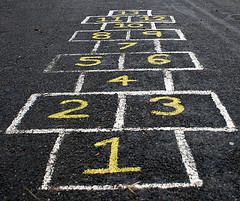 Like I said before, it's Twitter. Anyone can jump in, jump out, and pretty soon you have the hopscotch and Hokey Pokey rolled into one.
Image: Philippa Willitts via Flickr, CC 2.0
All together now: you put your right foot in, put your right foot out, put your right…
This is actually a lot of fun, if you're prepared to deal with it.
What you can do: make sure that you're including the relevant hashtag with your tweets. A good way to do this is to participate in the chat using Tweetgrid or Tweetchat, which automatically include the hashtag with your tweets.
This way, you'll see interesting tweets from Twitter users you might not be following, but who are also using the hashtag to participate in the chat.
By doing so, you can engage with them, continue your conversation outside of the chat, and the next thing you know, you're on a plane to Alaska.
Bonus tip: most chat moderators will number the questions, e.g. Q1, Q2, and so on.
When responding to specific questions, start off by saying, "Re Q1," or "A1," etc.
You will help the moderator out immensely by doing both these.
First, because unless you include the hashtag with your tweets, they won't be indexed in the transcript/search.
Second, numbering your answers helps others understand what specifically you're responding to, as well as the moderator, which will help her (ok, "or him") point you to previous answers that may help you get up to speed (if you're asking a follow up question), as well as additional resources that help you out.
This is some of what I've learned by participating in, and moderating, Twitter chats. I'm sure there's much, much more, because I'm not Simon Cowell, and I don't know everything.
What have you learned about making your Twitter chat participation more effective and useful? Do share!