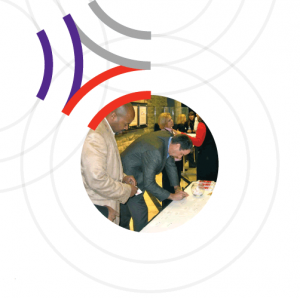 I recently received a notification from another influencer marketing tool seeking to engage me by flattering my ego, which will inevitably re-stir the frenzy of excited tweets, criticism, and everything in between.
Communicators often find themselves torn between the desire to embrace innovation, and the need to give their clients responsible advice. Criticisms against the dizzying array of marketing tools vying for communicators' attention and loyalty reminds me of journalists' gripes about "what not to do in PR."
No one enjoys having their value reduced to a number, or bid for at an auction.
Those who are frustrated with these circular conversations will be heartened by economist Umair Haque's impassioned plea for greater responsibility in a recent Harvard Business Review article titled Business Should Focus on Sociality, Not Social "˜Media':
"The great promise of the social is to reconnect life with living, and so reconnect institutions with individuals…the real work of an institution is to help you arc past what you thought were the immovable limits of your human potential."
Another great resource or ally can come from working with a trusted research firm that can help you "uncover the hidden patterns of understanding that undermine citizen action," as the Topos Partnership has done for a variety of communities in at least seven different sectors.
The work of firms like Topos provides a sanity-inducing balm to messes like the influencer marketing onslaught, because they get into the core beliefs behind what people think or feel about the message at hand, which goes beyond tools and tactics to the core of the decision-making process.
Responsibly-designed research
provides a bulwark in our efforts to understand customers at a deeper level, listen to, and tap into the core values that truly motivate their decision-making. Taking an approach like this allows us to reach people through more conscientious, socially responsible communications, and illustrates the impact this will have on our audiences of decision-makers within our companies and client organizations.
I was first introduced to Topos' work through a case study that Margy Waller presented at the 2011 Chorus America conference of work for the former Cincinnati Fine Arts Fund, now called ArtsWave. I was impressed by the researchers' data-driven, consumer-focused approach, and the results that the organization was able to accomplish, once armed with this knowledge.
The changing narrative
The case study clearly illustrated why the traditional narrative that placed special value on the fine and performing arts as a mark of civilization and cultural development has changed for modern audiences, and how communicators in this space can respond and adapt positively.
The findings speak to a detailed level of care and understanding for the true motivators, and provided a welcome relief to the finger-pointing that can come when strategic goals like audience development are stymied by external forces.
As you'll see in the full case study (click for PDF), ArtsWave rebranded the organization from top to bottom as a result of their work with Topos, with a re-defined mission statement, giving priorities, and host of engagement activities that touch each community within Cincinnati.
Their new face now portrays a friendly, vibrant, community-focused advocate for the common good.
In Justin Goldsborough's great recent piece on social media-fueled customer service, originally titled "Technology has changed, Customers' expectations haven't," he points out that
"a company's ability to serve customers…comes from leadership embracing a culture focused on the customer experience first, which opens the door for employees to provide the best possible customer service no matter what the channel."
How do you qualify your audience for each campaign? What kinds of analysis or data do you use to integrate community cool while holding the deluge of codswallop at bay? (apologies, Shonali!)