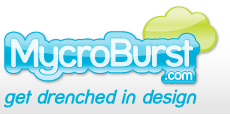 When I was at BlogWorld
a couple of weeks ago, I spent quite a bit of time walking around the exhibit hall.
That's where I met up with Jordan, Jeremy and Jenna of Livefyre (does your name have to start with a "J" to work at there?), got my mugshot taken with "Go Granny" and generally felt happy that I was there and a part of this whole blogging thing.
One of the booths I spent the most time at was the MycroBurst one. Frankly, not because I was deathly curious about MycroBurst, but the folks looked inviting. But when I started talking to them, I thought MycroBurst was a neat concept, so I wanted to tell you about it. And there is even a special offer for … well, you'll have to read all the way through first!
In a nutshell, MycroBurst helps you crowd source any kind of design.
Website, logo, stationery, t-shirt – you name it, there's a community of designers signed up there to vie for the honor of creating your project. You simply select what kind of project you want, post the info along with how much of a "prize" you're offering (they suggest $149 as a starting point, obviously if you offer a higher prize, you're likely to get more entries), and then a contest starts among the designers (examples below, image courtesy MycroBurst).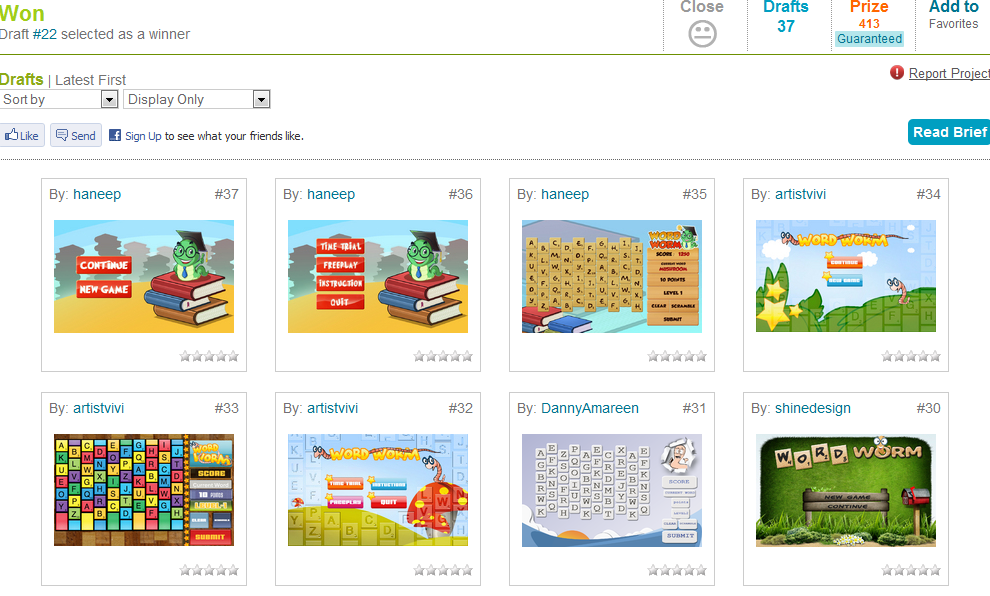 As you review the entries, you give feedback, and then, at the end of the contest, you select a winner, give 'em their prize money, and you're done … probably for far less than you'd pay otherwise.
There is a $19 set up fee for MycroBurst to run your contest, a 7.5% credit card processing fee, as well as various options for you to select from in terms of promoting it, but I'm going to ask you to hop over to the MycroBurst site to learn more about the details.
I've seen other crowd sourcing design sites, and I like the way this one works. No doubt, the fact that Joe Witte, one of the people behind MycroBurst, took some time to talk to me and give me a demo made a difference.
Here are some other things he told me:
They are currently averaging 104 concepts per project posted (which is 7 days, unless someone needs to extend a project).
They are so confident in their model that they offer money back guarantees if a logo project doesn't get at least 30 concepts. Think about that – thirty concepts in one week … and as I said above they average 104 concepts per project from designers all over the world.
80% of MycroBurst clients gave them a "9" or "10" when asked if they would refer the firm to a friend or colleague (metric based on the "Ultimate Question" book by Fred Reichheld, and his "Net Promoter" question).
How to make your MycroBurst project really successful:
Give good feedback to the community during the project, and give star ratings;
Invite designers (not just the top designers, they get tons of invitations), to participate in  your projects;
Make your project guaranteed (that means someone will definitely win the prize) since it will result in 70% more concepts.
I've been thinking about not only a blog re-design but a website re-design and MycroBurst might be just the thing for me. I don't have a huge budget, and I'm smart enough to know that I shouldn't try to design something myself (I'm great with concept, but the technical execution … not so much).
But here is where it gets good for you: Joe and the team gave me a code to give out as a special offer, that will waive the $19 set up fee for anyone who uses it. So in essence, you can post a free project (you'll have to decide how much your prize money is, etc.) and probably get some great designs in to help you along. Nice, huh?
Here's the deal: if you'd like to avail this special offer, please head on over to my Facebook page, which is where I'll post the code (if you don't see it right away, ping me and I'll send it to you).
I'm not doing this to be difficult; but people have been so nice in "fanning" my page and I haven't had anything to give to them as such. So I figure the least I can do is make the code available there … after all, you get a lot of freebies here on WUL, right?
Once you grab the code, just plug it in when you place your project (if you have any trouble, please let me know). The code is valid through July 17, 2011, which gives you more than a month to figure out what kind of project you're going to post, etc.
Happy MycroBursting!