Estimated Reading Time: 6 minutes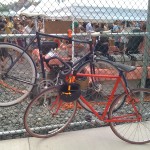 Guest Post by Jamie Garantziotis
I was catching up on emails recently when a message caught my eye from one of my favorite brands: Rapha.
As a bike geek and cycling lover, I love Rapha's comfortable and beautifully designed cycling wear, and admire its use of content (particularly video) to tell its story.
Over the holiday season, Rapha challenged its community to complete the Festive 500 – burning off those Christmas calories by getting outside and cycling 500km across one week.
You can see some of the great efforts and content shared by the community here.