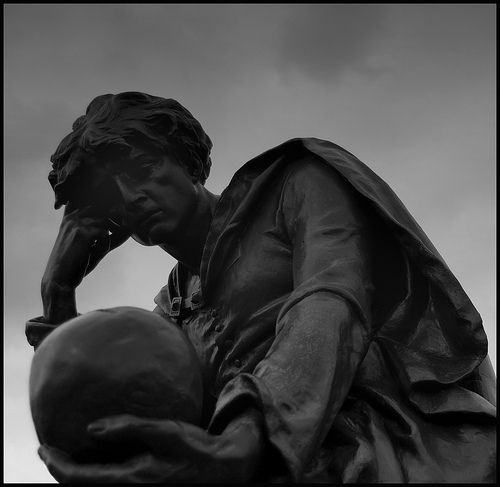 A couple of weeks ago we started talking about accreditation on Twitter (at least, I did). I serve on IABC's Accreditation Council so, clearly, think it's a good thing. I was curious about what others thought, so I asked my networks why they had pursued, or were pursuing, accreditation, and what value they derived from it.
What's the Value of Accreditation?
The response overwhelmed me, not just by how many there were, but by how strongly people feel about accreditation.
There were a few recurring themes: curiosity as to whether one "measured up," validation of one's approach to communications, and value in staying involved with process by being a mentor or grader. On LinkedIn, Mary Hills, ABC, who's director of marketing for the Council said:

And Jason King, ABC, accreditation liaison for IABC/Washington, said:

You can read all the LinkedIn answers here, but I found Maureen Ryan, ABC's answer particularly interesting: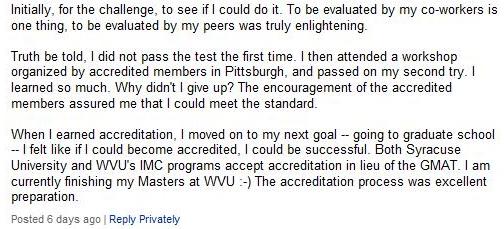 Maureen's accreditation was accepted by two universities in lieu of the GMAT. Bill Spaniel, ABC made good use of it too:

Accreditation v. MBA

So: you're thinking of getting accredited, but should you be considering an MBA instead? What if you already have one, does accreditation still make sense? Here's what Dora Smith, currently an accreditation candidate, told me:




Sue Johnston, MBA, ABC said:


The "Official" Accreditation Value Study
A study on the value of accreditation was conducted by L.C. Williams & Associates for IABC late in 2007. I encourage you to read the executive summary, which is extremely interesting; some key findings were:
Seventy-nine percent of ABC respondents said the designation improves their résumés;

Sixty percent said it's given more credibility to their department or organization;

Eighty percent said it benefits the profession by providing a professional global standard; and

More than one-half of them (53%) said that since being accredited, they ensure that evaluation, measurement and monitoring are part of their plans.
So far, then, we have increased credibility, greater confidence, more rigorous use of communication best practices and advancing the profession.
Not All Peaches and Cream
Amy Mengel made several points from a different perspective; first, that accreditation is not inexpensive, when you consider the initial cost as well as the cost of maintaining it. She said (via email, and all emphasis is mine):
"I've worked in corporate communications for about five and a half years now, so I guess I'm 'eligible' to go through the process now if I wanted to. But I've never felt like having ABC or APR after my name would help me move up the career ladder or land a better/different job in corporate communications. I got my MBA two years ago (entirely company-funded) and I think that's been much more relevant and opened more doors for me. I think accreditation would be much more important if I were an independent consultant or ran my own business – or even a member of a smaller PR firm.

If I were to do it, I think my reasons would be purely personal – for the experience and personal knowledge gained from going through the process. If I set out to do it with the expectation that it would get me a better job, a promotion, a pay raise, etc., then I think I would be disappointed. It's not a credential that most hiring managers in corporate comm roles seem to be  familiar with or understand – it's not like a CPA for accountants where it's almost expected that practitioners have it."
And, finally:
"I'll also admit that I think a lot of these programs (beyond PR/comm. accreditations) are 'profit centers' for organizations… I can still be a good communicator without it, and the variety of designations handed out (IABC, PRSA, AMA, etc.) somewhat diminishes the strength of any one accreditation program."
Gulp.
My $0.02
I promised Sarah Ann Walters I'd also share my opinion and story, so here they are:
I earned my accreditation four years ago, starting the process just after moving to DC. I did it because I don't have formal training in PR, and I wanted to know whether my work – which I "thought" was good – really measured up. I attended an accreditation "fun shop" held by Ned Lundquist, ABC (who's also founder and editor of Ned's Job of the Week), and since I wasn't working (I'd just moved to DC, remember?), figured I might as well start on my accreditation.
It took me one and a half years, from application to certificate. I paid for it myself, but it's one of the best things I've ever done. It wasn't cheap and yes, it was time-consuming. But I grew in confidence and learned a great deal which was reflected in my work, which led to the promotions and pay raises.

It's one of the reasons I focus so much on smart measurement as an intrinsic part of strategic communications. It has helped define my approach to business communications, and the business of communications. So while accreditation has certainly been a personal achievement for me, it's one I've put to good use for employers and clients, and they've appreciated it.
As to hiring managers being unfamiliar with accreditation… well, that's a little of a chicken and egg situation, isn't it? Until we, as accredited business communicators, take the time to educate them, why should they care? The Accreditation Chapter Toolkit might have been designed for chapters, but it's got a wealth of resources we can all adapt and use to grow awareness of accreditation.
Michael Sponhour, ABC, puts it best:
"I find it works in the most simple ways – I have ABC on my business card, websites etc. and it often prompts questions from people who want to know what it is – that allows me to explain about the whole process. People should not expect an earth-shattering change in their professional career, but a greater sense of confidence and new opportunities to tell their stories without resorting to bragging or overbearing self promotion."
The Last Word: From Shel Holtz, ABC
There are a lot of issues the PR profession faces, and this post certainly isn't going to get to grips with them all. But one of the most critical issues is our validity as a profession, which Shel Holtz' recent post on the issue examined extremely well. I'll give him the last word:
Accreditation, unlike certification, is voluntary, and there are plenty of outstanding, professional PR practitioners who are not accredited. And it's as likely you'll find an accredited communicator who behaves badly as you are to find a lawyer who acts less than ethically.

But when faced with two communicators who are unknown to you, but who both seem to be equally capable, you can be more assured that the accredited communicator is going to perform his job based on a thorough understanding of communications' models and standards because he has gone through a process and judged knowledgeable.
Photo credit: hartlandmartin. My thanks also to everyone who responded to my query, via Twitter, LinkedIn and email, several of whom are quoted in this post. The lack of space that prohibited me from using all your quotes in no way diminishes the value of your responses – thank you again.

What do you think? Is accreditation important to you, or are you curious about it? What else do you want to know? I'd love to have you join the conversation.