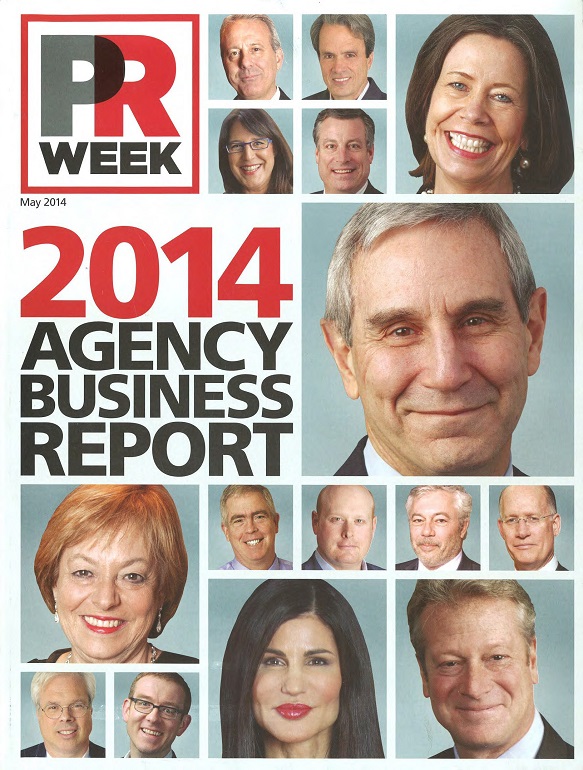 Ed: Did you do a double take? Yes, you get TWO guest posts this week. I'll be back in the blogging saddle next week. And that's no double talk. Enjoy!
In my previous WUL post, I celebrated the many contributions of women in PR, highlighting three whose own efforts helped shape the profession for all.
This go round, I shift my attention to another segment of PR practitioners: publicists of varying race, gender, sexual orientation or ethnicity. In other words, PR folks who collectively represent a broad spectrum of backgrounds typically referred to as "diverse."
"Strength lies in differences, not in similarities" ~Stephen R. Covey
The concept of diversity, according to the University of Oregon, is one that "encompasses acceptance and respect. It means understanding that each individual is unique, and recognizing our individual differences. These can be along the dimensions of race, ethnicity, gender, sexual orientation, socio-economic status, age, physical abilities, religious beliefs, political beliefs, or other ideologies."
The focus on diversity in the workplace is hardly new. Yet, despite our increased awareness, the Society for Human Resource Management (SHRM) reported as recently as April 2014 that many companies still lack diversity training, budgets and metrics.
But what about #PRDiversity?
A 2010 census of PRSA's 22,000 professional members shows that 14 percent of the membership self-identified as Hispanic, black/African American, and Asian/Asian American. That percentage has doubled since 2005. As one would imagine, diversity challenges exist in most any career track and the public relations profession is not without its own diversity hurdles.
"If numbers don't lie, then the United States Bureau of Labor Statistics (BLS) has confirmed what many in the US already believed to be true – the public relations profession in the US has a diversity problem. As of 2011, the BLS reported that only 8.7 percent of African-American/Blacks, 7.3 percent of Asian-Americans/Pacific Islanders and 15.3 percent of Hispanics/Latinos possess jobs in the fields of advertising, marketing and public relations." ~ Global Alliance
The Public Relations Society of America (PRSA) recognizes the need for diversity awareness in PR and dedicates an entire section, PRSA Diversity Efforts, on its website to the topic.
According to PRSA, they first began their diversity awareness more than 20 years ago and have since achieved many significant milestones to encourage acceptance and celebrate inclusion, including:
Development of a Diversity Tool Kit® for PR professionals
Ongoing diversity awareness and education training
Dedicated hashtag #PRDiversity for continued conversation
The association's entire "diversity in PR" legacy can be seen here.
The need for diversity and its push forward should transcend PRSA, and permeate all aspects and segments of PR.
As a starting point, those responsible for publishing industry-wide messaging celebrating leaders in PR must realize the images they publish of PR leaders can innocuously communicate a message of exclusion across the profession.
A strong example of this can be seen on PRWeek's 2014 Agency Business Report. While the publication's effort to celebrate PR leadership and their innovation year after year is notable, it's hard to ignore the lack of diversity on the front cover, which featured the most senior leaders at the top 13 agencies by revenue and the top two agencies by revenue growth in 2013.
While the decision to publish Caucasian-only faces as "PR leaders" may have been unintentional, the message conveyed is clear: "PR leaders" do not include people of color, minorities or of different ethnicity. At least not in 2014; and 2014 wasn't light years away. It was just one year ago.
Scary. And sad.
With images like these, it's no wonder students of color question if there's even room for them in the PR profession. According to Natalie Tindall, Ph.D., a member of PRSA's Diversity Committee and assistant professor of communication at Georgia State University, "Students don't see others who look like them in the places where they wish to work."
PR agencies aren't above reproach, either.
In the PRWeek 2014 Agency Business Report example, one has to also wonder about the senior leaders the PR agencies themselves are pitching as "PR leaders" to be represented in industry publications. While PRWeek perhaps could have exercised more diversity sensitivity in its display of the 2014 PR leaders, they were, after all, working with the content and information submitted to them by PR agencies.
As PRWeek's editor-in-chief Steve Barrett so acknowledged, "the argument is that those faces are the most senior leaders in the PR agency sector and we are merely holding up a mirror to the industry."
This begs the question: are PR agencies contributing to #PRDiversity challenges?
The sad answer seems to be "yes." As Barrett shared, "Some firms have made real (diversity) efforts and there has been some progress; but this is still not properly represented at the senior levels of agencies," adding that this is "not a new issue" and that "little has been achieved in terms of real tangible progress that can be shown to young people looking for senior PR agency role models to aspire to emulate."
Barrett also shared the comments expressed by one of PRWeek's readers who relayed disappointment in the publication's 2014 Agency Business Report cover. The reader, a communications executive with a son attending a top school for public relations, wondered if his son would consider agency public relations as an appealing opportunity when researching his first job opportunity after seeing the lack of diversity in senior PR leadership.
The reader also suggested the lack of diversity in agency PR "underscores an industry potentially out of step with the plurality nation we're becoming and are in charge of engaging."
"In our diverse world, are there truly no executives of color qualified to be CEOs of global firms? … True diversity doesn't start at the bottom, it starts at the top." ~ Mike Paul, The Reputation Doctor
This illustrates the flavors of sentiment PRWeek was flooded with in response to the cover.
Interestingly, the majority of the diversity-related feedback was about color, or the lack thereof. But "diversity," as we know, goes well beyond just color.
The diversity challenges in PR today are endless and often touch conversations outside of the color or ethnicity parameters.
Take for instance Bruce Jenner who recently transitioned into Caitlin Jenner. As soon as Caitlin's Vanity Fair cover was published and her new Twitter account, @Caitlyn_Jenner, was launched, GLAAD released an updated tip sheet for journalists. But how many communicators would have known to check for such a tip list or that one even existed? Some communicators, yes. Most? I'm not really sure.
There are sensitivities when discussing the LGBT narrative, and it's important to know they exist and be aware of how to best address them. And beyond the LGBT realm, there are sensitivities in other diversity aspects of PR as well.
As Barrett himself conceded, "the fact that there were only four women among those 15 individuals (featured as PR leaders on the cover of the 2014 Agency Business Report), in an industry where 65-70% of the workforce is female" is yet another important PR diversity topic meriting attention.
So what's a PR communicator to do?
As a woman of Hispanic ethnicity with more than 15 years working in the ranks of digital and now social PR, I have been on the front lines of the #PRDiversity awareness for quite some time. I've even been on the receiving end of some PR peers or managers who were not as "#PRDiverse" as I (but those are stories for another day).
Like most of the reporting I bumped into during the writing of this post, I agree that some #PRDiversity progress has been made in the past few years. But clearly, much more progress can and should be made. Especially in an ever-changing "diversity" climate where we are frequently exposed to diverse and not-so-diverse stories in the media week after week (the latest of which is the whole Donald Trump/Mexican commentary hot off the non-diversity presses).
For those PR communicators who care about #PRDiversity and would like to see the PR profession further develop its awareness around these important matters, here are three easy ways to start making a difference:
1. Embrace multicultural communications.
The reality is that PR today is extremely multicultural. Period.
Multicultural PR is the future + the mainstream. Every time you step into a meeting, you need to take that to heart. #prdiversity ~Becca J. G. Godwin (@storyhungry) June 25, 2015
2. Celebrate accomplishments by diverse PR peers.
Whenever possible, make more of an effort to incorporate and celebrate the PR accomplishments of diverse communicators from all walks of life.
3. Actively lead #PRDiversity and awareness forward.
If you are a hiring manager, be more aware when hiring for PR-centric roles. And if you are a PR communicator at any level, get involved! Join or create professional #PRDiversity groups, causes or initiatives.
"Ultimately, America's answer to the intolerant man is diversity." ~ Robert Kennedy
Did I leave anything out? I welcome any opportunity to continue this important conversation. Please share your thoughts, suggestions or feedback in the comments below. 
Image: JMPR Public Relations, CC 2.0