Estimated Reading Time: 3 minutes
There must be something in the wind, because after months of not traveling I'm suddenly all over the map.
Last week it was Amarillo, now I'm in NYC … told you, literally all over the map!
Before leaving and when drafting my autoresponder, I had not yet experienced Amarillo's high winds (I did when I was given a tour of Cadillac Ranch ZOMG SO COOL).
But this is what it said: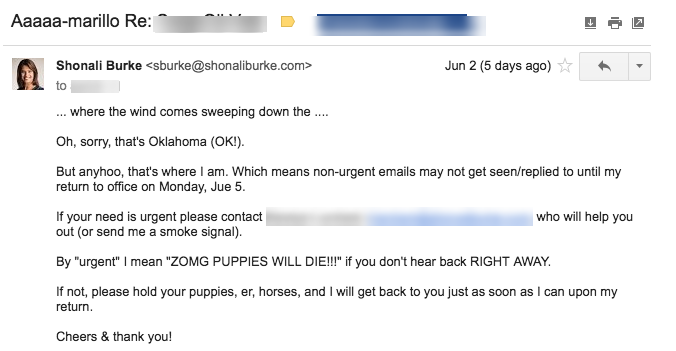 I cannot TELL you how many chuckles it gave folk … including several in/from Amarillo, and how many compliments I've received on it (and no one even mentioned the typo!).
That I could make someone smile makes me feel really happy.
Because we're then a tiny step closer to moving from "words in an email" to people making a connection.
And when one tends to need a life preserver to make it through one's inbox, an autoresponder that makes you grin sometimes gives you the energy to keep going.