I took a completely unscientific Twtpoll a couple of days ago. The question was: you've met someone once, and like a good networker, exchanged business cards. Next thing you know, you're on this person's email list, which is clearly being used to market his/her small business. OK or no way?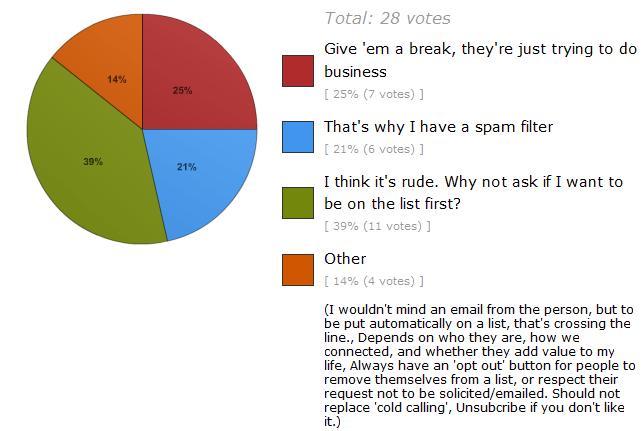 Out of 28 votes, seven thought it was ok. The rest (75%) pretty much said no way (if it's going in your spam filter, I take it as a sign that it's unwanted) and the comments are pretty clear.
My Take
In my opinion, this is the quickest way to eliminate what could have been potentially a very good contact for you from not just your database, but your life. Or worse, fall afoul of CAN-SPAM.
You want to grow your business; I get that. But building a business is based in no small part on building relationships, as yesterday's #soloPR Twitterchat made perfectly clear (and many of those participating were/are small business owners).
Building relationships, like everything else, takes time. So you met a few people you think could be potential customers or advocates down the line. Great. Don't start bombarding them with "this is the dream of my life" emails when you have no idea if they even want them.
Get to know them first. Shoot a quick email saying you'd like to keep in touch. If they respond, kick it up a notch; maybe set up a phone conversation or, if they seem willing, a cup of coffee. Find out what they're about, what they are interested in. Find out what you can do for them – that whole social karma thing.
If it goes well, ask if they'd be interested in hearing more about what you're up to, and go from there. And once they're on your marketing list, always, always make sure there's a way for them to extricate themselves. In Seth Godin's words, it's permission marketing.
Or, as Chris Brogan put it, "I'm reaching out to shake your hand and you're trying to put your tongue in my mouth."
What do you think? What are your tips for small business owners trying to grow their base? Have you had great – or not-so-great – experiences you'd care to share? I'd love to know and, as always, thanks for stopping by.