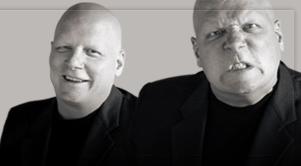 Team Crescenzo on the move
I first met Steve and Cindy Crescenzo a couple of years ago, when I teamed up with Ragan Communications to present a few measurement-oriented workshop for a large government entity.
Having heard of "Team Crescenzo" (as I call them) for years, it thrilled me no end to actually meet them.
I was also a little worried, because I'd thought of Steve for the longest time
as one of those stratospheric communication leaders who might rip me a new one if I said or did something he deemed stupid.
Because he is much smarter than most of us.
Get us outta here!
Despite the fact that he almost led Cindy and I into a stripper bar in New Orleans (actually, he did lead Cindy and I into a stripper bar in New Orleans, but agreed to leave when we realized where we were), Steve couldn't have been kinder and more pleasant to be around.
So I was really excited when I heard that TC would be coming to DC (got a nice ring, that, TC-DC) to conduct a workshop for IABC on strategic creative communications, slated for October 14 (sign up if you can, it'll be well worth it).
TC will also grace an IABC/DC Metro happy hour the previous evening, October 13, and I know would love to see you (hint: sign up for the happy hour!).
Strategic creative communications
Steve was gracious enough to give me a few minutes of his time to chat about what participants can expect at his upcoming workshop.
He talked about how planning, research, tactics and measurement comprise the four-step process to their approach.
Being a bit of a strategy fiend and research and measurement geek myself, I couldn't agree more.
Here's what he had to say.

In the second part of this interview, I asked Steve for his take on the current state of creativity in business communication.
His answer was short and simple: "It sucks."
Watch this video to see how Steve elaborated on that.

Finally, I asked Steve for three ways corporate communicators, who know that they're stuck in a rut, can get out of it.
Watch on.

He's pretty cool, huh?
If I were you, I'd sign up for their workshop pronto.
And Steve's blog, Corporate Hallucinations, is required reading for me… how about adding it to your Reader? Lastly, both Steve and Cindy are on Twitter.
Thanks, Steve!