Sorry, couldn't resist that. I felt a bit punny.
What is HAPPO? Oh, how quickly one forgets!
Here's a reminder of how HAPPO started, but in a nutshell, it stands for "Help a PR Pro Out," and is an initiative that uses social media to connect public relations job seekers with those who could employ them.
I've been part of the core group since Arik Hanson and Valerie Simon launched the initiative, and think it's absolutely fab.
Tomorrow, a little over one year since HAPPO was launched, there will be several events taking place throughout the country to help job seekers with all sorts of things: résumé reviews, advice, as well as connecting them with potential employers.
Image: edupov via Flickr, CC 2.0
Here's a quick rundown (all times local to that time zone):
Atlanta
Fun and networking at Front Page News, 6-8 pm. RSVP here.
Your Atlanta champs, Kellye Crane and Jeremy Porter will be more than happy (should that be HAPPO?) to give you more info.
Chicago
Networking and a panel discussion featuring those who recruit and hire PR pros, including Karen Bloom of Bloom, Gross & Associates, at the Arment Dietrich offices, 5-7 pm.
RSVP at the bottom of the post; Gini Dietrich is your Chicago champion as well.
Also, she is very cool, so you should go to meet her, if nothing else.
Detroit
A live, informal networking and résumé critique session, hosted by PRSA/Detroit and for which Identity Marketing & Public Relations is providing refreshments: 5:30-7:30 pm.
In addition, a copy of Be Your Own Best Publicist (see NYC info below) will be given away.
You can RSVP for the event on Facebook, and contact Nikki Stephan for more information.
Fort Lauderdale
An evening of advice, networking, good spirits and hopefully a few job leads, at Tarpon Bend in downtown Fort Lauderdale, 6-8 pm.
Check in with John Sternal if you'd like to know more.
Minneapolis
Fast Horse is hosting a face-to-face event, from 5-7 pm. What to expect: informal networking, free drinks & munchies, feedback on your résumé and meeting some great folk.
RSVP on Facebook, and contact Arik Hanson for more information.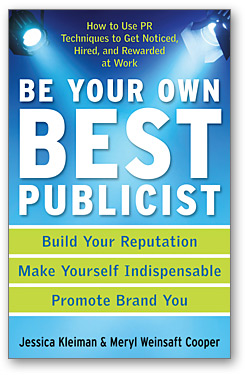 New York City
A networking event from 6 – 8 pm at Connolly's Pub in Times Square. Here's where you can RSVP.
Special guests: Meryl Cooper, managing director of the Home & Lifestyle practice at DeVries Public Relations and author of Be Your Own Best Publicist, along with her her collaborator Jessica Kleiman, Vice President of Public Relations at Hearst Magazines, will share career tips at the event.

A copy of the book will also be given away.
Who you gonna call fo' mo' info? Valerie Simon, Deirdre Breakenridge, Tiffany Winbush and the erstwhile PRCog.
Philadelphia
Meet, greet and tweet at the Ardmore, Pa., offices of Buchanan PR, from 4 – 6 pm.
Who you gonna call? Anne Buchanan.
Phoenix
A networking evening beginning at 5 pm, that will then join with the #Buzzcation at Morton's Phoenix…
… and a copy of BYOBP will be given away.
Don't forget to RSVP at the Buzzcation site as well as send Abbie Fink – the Phoenix HAPPO champion – a note, to let her know to expect you.
Pittsburgh
A very informal event from 6-8 pm at Bar Louie Station Square… as well a book giveaway of BYOBP.
After the event, Deanna Ferrari, Suzanne Batista and a few other folk will stick around to give you any other advice you're looking for.
Washington, DC
Networking, advice & résumé critiques (don't forget to bring yours) at Ping Pong Dim Sum's Gallery Place/Chinatown location, from 6-8 pm.
A copy of BYOBP will be given away here as well.
Who you gonna call? Mike Schaffer, who's the DC champ along with me (but Mike is the power behind this event, so definitely ping him).
Can't make the live action?
Follow the fun – and job-hunting tips – on Twitter, using the #HAPPO hashtag (check with your champions for city-specific hashtags) from 5-7 pm ET.
And check out my earlier post on New Year's resolutions for job seekers, as well as the networking category on WUL for more tips and (I hope) helpful posts.