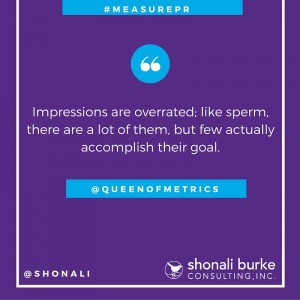 From Women's History Month to International Women's Day, March is all about women. Amirite ladies?
This month's #measurePR's edition was no exception. I was absolutely delighted to welcome back three of the most notable women in measurement as guests: Jen Zingsheim, Sally Falkow, and the redoutable Katie Delahaye Paine.
Here's some of what we talked about.
On whether impressions are a valuable PR metric in a social age:
A2: Impressions show reach, which is important, but not the final goal. #measurepr
@shonali A2: impressions are overrated — like sperm there's a lot of them, but few actually accomplish the goal #measurepr
@shonali A2, p.2 – Try telling a mgr. at a retail store that the number of people who walked by window matters. No. Sales matter. #measurepr
Gerard Corbett chimed in:
A2. You want to make an impact not an impression! #measurepr
As did Aidan Lukomnik:
A2) #Impressions should be called "people that kinda, sorta, sometimes, maybe, possibly see your story" #measurepr
On the most effective way to report PR initiatives to executives:
@shonali A3:Get agreement on what role PR plays in the path to purchase, then measure it. Conversions & engagement r good options #measurepr
A3: The C-suite cares about the bottom line, so should you. #measurepr
@shonali A3: connect to biz objectives. That might mean reputation, sales, etc.–get that nailed down 1st #measurepr
Community member Amanda Roe also had this to say:
@shonali A3:always include competitive comparison; align w/co's goals & how relationships positively impact sales. #measurepr
On going from measurement to reporting to optimization:
@shonali A3 & A4: Focus on what DIDN'T work, you learn far more from failure than pointing out the obvious successes. #measurepr
@shonali A4: Depends on how much buy-in you have. Might need a bulldozer in some situations. #measurepr
A4: Learn to analyze data and see the good, the bad and the ugly. Then use that to achieve better results. #measurepr
As you can see, this edition was one for the record books and as always, our time was up way too soon. If you missed the chat or want to dig deeper into the insights provided check out the #measurePR transcript for March 10, courtesy of our friends at Zoomph (I'm very grateful to have access to their super platform gratis).
April #measurePR Announcement
In April, the #measurePR chat will focus on influencer marketing; best practices, relationship-building, and, of course, how to measure your efforts.
Our guests will be … drum roll please … Gini Dietrich, CEO of Arment Dietrich and creator of the popular Spin Sucks blog community; founder of the influencer marketing platform Traackr, Pierre-Loic Assayag; Jason Falls, SVP of Elasticity (though Jason really needs no introduction!); and Amir Zonozi, Chief Strategy Officer of Zoomph, a real-time streaming analytics platform.
Trust me when I say you don't want to miss this chat, so mark your calendars for Thursday, April 14th from 12-1 pm ET, and don't forget to RSVP to our event on Facebook. I hope to "see" you all there!